The Elms, "An Engine for Change," Featured in Today's New York Times
October 8, 2009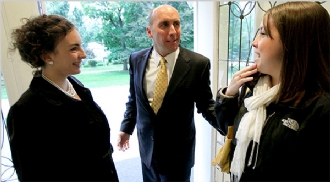 October 8, 2009, Greencastle, Ind. — A story in today's New York Times focuses on the home of DePauw's presidents since 1925, The Elms, and how it has been transformed under Brian W. Casey, the University's nineteenth president. Sara Rimer writes that Dr. Casey, now in his second year leading DePauw, "reinvented the house and its role on campus. He regularly invites professors, students, staff members and visitors to the house." (at left: student ambassadors Jeanette Jones and Aurora Flores with Dr. Casey at The Elms; photos by A.J. Mast)
According to Lisa Hollander, vice president for alumni and development,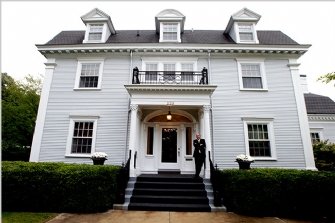 "The house has become a metaphor for what Brian is doing with the whole campus. Warming it up, opening it up."
Kathy Hubbard, a 1974 graduate and member of DePauw's Board of Trustees, adds, "This place is more alive than it's ever been."
Rimer visited The Elms last week, and the lengthy feature -- which appears in the newspaper's Home & Garden section -- includes several photographs of student ambassadors, Trustees, and President Casey, who tells the Times he wanted the home to become "an engine for change. It's become a place of talk and conversation and debate -- what a house on campus ought to be."
"By the time they had made Dr. Casey the leading finalist, the trustees were captivated by his passion and plan for transforming DePauw into one of the nation's very best small liberal arts colleges,"

Rimer writes. "He had a law degree from Stanford, two graduate degrees in history from Harvard and an undergraduate degree in philosophy and economics from Notre Dame, where he was captain of the swim team. Ebullient and youthful, he was already connecting with students."
Read the complete article -- "A House as a Symbol of Openness" -- at the Times' Web site.
Back