Lew Gulick '44 Details Story of Edward Rector and His Scholarship Program in New Book
October 8, 2009
October 8, 2009, Greencastle, Ind. — M. Lewis Gulick, a 1944 DePauw University who was the recipient of a Rector Scholarship, is the author of a new book that chronicles the legacy of the scholarship's namesake, Edward Rector. In An Investment in Humanity: Edward Rector and His Historic Scholarship Program for DePauw, Gulick tells the story of the man but also examines Rector's endeavor to set up and maintain a scholarship program that would attract to DePauw some of the best and brightest graduates from high schools throughout America, and further to ensure that these gifted students could attend.
Rector's involvement with DePauw began in 1915, and ever since the ripples of his philanthropy have expanded, affecting generations of students and the institution as a whole. Until now, however, little had been published about Rector and the historic scholarship program he funded for the University.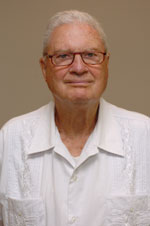 An Investment in Humanity pays homage to Rector, whose scholarship donation to DePauw in 1919 was the largest in history to an Indiana school and one of the biggest ever to a small liberal arts college. Gulick details the fulfillment of Rector's dreams and the stresses and successes of the program that is so closely intertwined with the history of DePauw itself.
Lew Gulick began work on the book project in the late 1990s with the intent of repaying the great man to whom he owed his college education. His research was aided by five recent Rector Scholar undergraduates who likewise are volunteering as a way of honoring their benefactor.
You can order a copy of the book by going to the DePauw bookstore Web site or by calling (765) 658-4926. The price is $15 plus shipping and handling.
Learn more about the book in this previous story.
Back