DePauw Students "Feel Personally Connected" to President Casey, Notes NY Times Reporter
October 9, 2009
Also: The Elms, "An Engine for Change," Featured in New York Times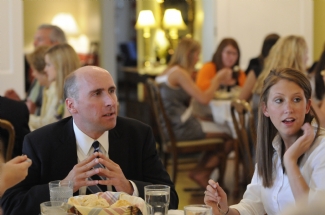 October 9, 2009, Greencastle, Ind. — "What is going on here? Why are DePauw students so in love with their new president?," writes the New York Times' Sara Rimer. In a follow-up to yesterday's story on President Brian W. Casey and the energy he has brought to the University, Rimer today recounts her visit to campus last week. (at left: President Casey dining at the Kappa Alpha Theta house in May)
"I tagged along one day last week as he schmoozed his way from the student union, where he had gone for coffee, to his office," she writes. "It was maybe a tenth of a mile. It took him 15 minutes. He stopped to talk to every one of the dozen students we passed. He knew everyone's name. He walks into the football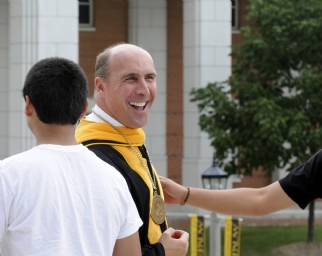 stadium at games, and the students chant his name: 'Bri-an Ca-sey! Bri-an Ca-sey!' ... The couple of dozen students I met wanted to talk about how excited they are about DePauw, how much they're learning -- both in and out of the classroom -- how much they feel they belong here. Student after student, male, female, white, black, Latino, told me that they feel personally connected with Dr. Casey."
"He's a framework for success and achievement and intellectual engagement, and he wants to share his passion with us,'" declares Ted Jacobi, a senior and vice president of the student body. "How cool is that?"
Duncan Wolfe, a junior, tells the Times, "He knows how to relate to us. He pays attention. He shows up at student events. He's cool.''
"He loves to talk to us," adds senior Nikki Craker, who is student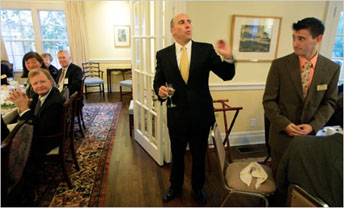 body president. We love to talk. Everyone here wants community.''
According to senior Adam Gilbert, "He encourages us to go forth and be ourselves. We show how much we love DePauw by being ourselves." (photo at left: A.J. Mast; New York Times)
Of President Casey, Rimer reports, "He loves his job. He isn't tired. In fact, since he started working out with the varsity swimmers, he now swims the breaststroke faster than when he was at Notre Dame, where he was captain of the swim team. He says he has to talk to everyone so everyone can be engaged in the mission: To turn DePauw into 'a living and learning community of unmatched intellectual and creative energy,
excitement and relevance.' He wants to make DePauw, with an enrollment of about 2,400 students, one of the country's best liberal arts colleges."
Casey, who came to DePauw from Harvard University in July 2008, tells the newspaper, "I love colleges. I love campuses. What's the one place where people are thinking and writing and playing and growing up all in one place? It's on campus. We're at our best on campus."
Read the complete piece -- "A University Where the President Knows Everyone's Name" -- at the Times' Web site.
Sara Rimer's article from yesterday's newspaper is accessible here.
Back