DePauw Wins Small College Classic; Haller Earns Medalist Honors
October 11, 2009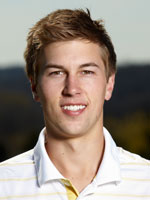 October 11, 2009, Clayton, Ind. — The host Tigers shot a tournament record 585 and won the DePauw Small College Classic by 17 strokes over Wittenberg's 602 at the Deer Creek Golf Club. Otterbein was third at 611.
DePauw's Peter Haller (left) earned medalist honors with a 142, while Otterbein's Alex Stansell was second at 145 and Franklin's Mitche;; Simmons was third with a 148.
DePauw's Chase King, Nick Reardon, Ronnie Harris and Ryan Berra each shot 149 and tied for fourth.
Playing as individuals for the Tigers, Jake Walsh and Lucas Crowley each shot 157 followed by Nathan Smith at 161 and Matt Coffin with a 162. Stewart Burns finished with a 163, while Kyle Robbins shot a 164 and Patrick Herrod finished with a 173.
Follow DePauw Athletics on Twitter | Become a Fan of DePauw Athletics on Facebook
 FINAL RESULTS           DePauw Small College Classic  
                         Deer Creek Golf Club     Clayton IN     
                         Dates: 10/10 - 10/11     (Today:10-11-2009)
                                   Par:        71                
                                   Yardage:  6700                

      Fin.   School                   Scores  

         1   De Pauw University       292  293    585
         1    Peter Haller             70   72    142
      T  4    Chase King               72   77    149
      T  4    Nick Reardon             76   73    149
      T  4    Ronnie Harris            74   75    149
      T  4    Ryan Berra               76   73    149

         2   Wittenberg Univ.         305  297    602
      T  9    Bleu George              78   72    150
      T 11    Ricky Boerner            74   78    152
      T 11    Jordan Millice           75   77    152
        17    Bradley Shepherd         78   75    153
      T 18    Craig Osterbrock         81   73    154

         3   Otterbein College        303  308    611
         2    Alex Stansell            73   72    145
      T 11    Brock Neighbors          73   79    152
      T 21    Ben Adams                75   80    155
      T 34    Taylor Harle             82   77    159
      T 61    Taylor Ford              89   84    173

         4   Franklin College         307  306    613
         3    Mitchell Simmons         73   75    148
      T 11    Eric Whitaker            77   75    152
      T 21    Matt Hicks               77   78    155
      T 31    Matthew Payne            80   78    158
        49    Daylan Mueller           82   83    165

         5   Adrian College           308  306    614
      T  4    David Sreiberg           75   74    149
      T  9    Jordan Kelly             78   72    150
      T 21    Jordan Barber            77   78    155
      T 36    Thomas Carson            78   82    160
      T 43    Mike Zakerski            81   82    163

         6   Oakland City U.          307  309    616
      T 11    Phillip Riggs            76   76    152
      T 11    Shawn Warner             74   78    152
      T 24    Garth Fenney             77   80    157
      T 24    Carter McDavid           82   75    157
      T 36    Mitch Oard               80   80    160

         7   Albion College           315  304    619
      T 18    Mark McLaughlin          77   77    154
      T 18    Mark Buckley             79   75    154
      T 24    Zach Benedict            79   78    157
      T 24    Mason Husby              83   74    157
      T 39    Scott Merritt            80   81    161

         8   Wabash College           316  329    645
      T 34    Sam Russell              78   81    159
      T 36    Luke Moton               78   82    160
      T 43    Kyle Nagdeman            82   81    163
      T 47    Jordan Koch              79   85    164
        50    Ben Foster               81   85    166

         9   Hanover College          330  329    659
      T 39    Marcus El                81   80    161
      T 43    Austin Stagman           79   84    163
      T 51    Jacob Hopper             86   81    167
        58    Will Taylor              84   87    171
      T 64    Vikram Ramjee            90   84    174

        10   Rose-Hulman Institut     341  328    669
      T 31    Brian Kiraly             80   78    158
      T 53    Aaron Kiraly             85   84    169
      T 55    Eric Kamer               87   83    170
      T 61    John Rigitano            90   83    173
        67    Eric Weathers            89   89    178


   Fin.   Individuals            School       Scores  

   T 24   Tom Moore              Franklin      80   77    157
   T 24   Jake Walsh             De Pauw       78   79    157
   T 24   Lucas Crowley          De Pauw       82   75    157
   T 31   J.J. Burns             Franklin      81   77    158
   T 39   Nathan Smith           De Pauw       79   82    161
     42   Matt Coffin            De Pauw       76   86    162
   T 43   Stewart Burns          De Pauw       79   84    163
   T 47   Kyle Robbins           De Pauw       85   79    164
   T 51   Andrew Palmer          Wabash        80   87    167
   T 53   Jason Kaylor           Franklin      80   89    169
   T 55   Kyle Ratliff           Franklin      85   85    170
   T 55   Josh Ross              Franklin      86   84    170
   T 59   Matt Murphy            Hanover       87   85    172
   T 59   Andrew Wibbels         Hanover       86   86    172
   T 61   Patrick Herrod         De Pauw       82   91    173
   T 64   J.T. Hamm              Hanover       85   89    174
     66   Terry Sullivan         Wabash        89   88    177


Back