Fifth-ranked Tigers Finish Third at Wittenberg
October 11, 2009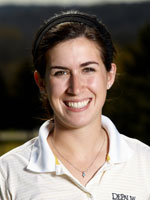 October 11, 2009, Springfield, Ohio — Fifth-ranked DePauw shot a two-round 662 and finished third at Wittenberg's Pat Clouse Invitational at Windy Knoll Golf Club. Findlay won with a 644, while Walsh was second at 646.
Erin Kielty (left) placed ninth with a 160 followed by Taylor Beaty in a tie for 13th with a 164. Kelly Gaughan placed 19th with a 168, while Sam Stahler was 23rd at 171 and Natalie Gough placed in a tie for 24th with a 172. Playing as an individual, Camila Romero tied for 16th with a 165.
Walsh's Nikki Kulasa was the medalist after shooting a 155.
The Tigers wrap up the fall portion of their season on October 18-19 at the Bucknell Invitational in York, Pa.
Follow DePauw Athletics on Twitter | Become a Fan of DePauw Athletics on Facebook
Back