Two Second-Half Goals Send DePauw to Win at Rhodes
October 11, 2009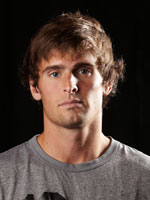 October 11, 2009, Memphis, Tenn. — DePauw scored twice in the opening 12 minutes of the second half to erase a halftime deficit and defeat Rhodes, 3-2.
The Tigers improved to 7-3-1 overall and 4-2 in the Southern Collegiate Athletic Conference, while the Lynx dropped to 5-5-1 overall and 1-3 in the conference.
Rhodes took a 1-0 lead at 15:44 on Zac Berry's goal on an assist from Eric Stradley. Beau Sorg (left) countered for the Tigers at 17:08 with an unassisted goal. The Lynx headed to halftime with a 2-1 lead after Petar Radujkovic scored on Jim Thompson's assist with 1:45 remaining.
Sorg's second goal at 53:28 knotted the score at 2-2 before Brad Kean's goal on Sorg's assist at 56:01 proved to be the game-winner.
Each team had nine shots and three corners. Ted Jacobi posted two saves in goal for the Tigers, while William Lay had three for Rhodes.
DePauw travels to Southwestern for a 2 p.m. CDT game on Friday, October 17.
Follow DePauw Athletics on Twitter | Become a Fan of DePauw Athletics on Facebook
Back