Tigers and Lynx Battle to 1-1 Tie
October 11, 2009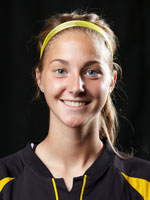 October 11, 2009, Memphis, Tenn. — DePauw scored just 15 seconds into the game, but it was its only goal in a 1-1 double overtime Southern Collegiate Athletic Conference contest at Rhodes. DePauw is 4-5-4 overall and 2-1-1 in the SCAC, while Rhodes is 3-3-4 overall and 0-1-3 in conference play.
Alex Ehr (left) scored DePauw's lone goal on an assist from Bridget Coleman. On Friday, she scored the Tigers' only goal just 1:10 into the win at Hendrix. Rhodes knotted the score at 1-1 at 65:09 on an assist from Mae Casey.
DePauw held a 14-7 advantage in shots, while Rhodes led in corners, 7-2. Lauren Palfrey totaled two saves in the first half for DePauw, while Caroline Kerr had one in the second half and both extra sessions. Becca Clarin had four saves for the Lynx.
The Tigers travel to Southwestern on Friday, October 16, for a 4 p.m. CDT contest.
Follow DePauw Athletics on Twitter | Become a Fan of DePauw Athletics on Facebook
Back