Prof. Julie Hollowell Curates Exhibition at Princeton University Art Museum
October 9, 2009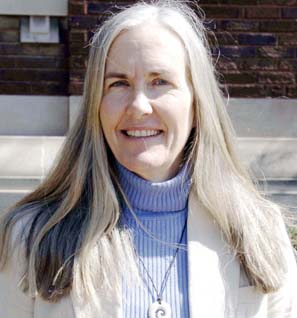 October 9, 2009, Greencastle, Ind. — Julie Hollowell, Nancy Schaenen Visiting Scholar in Ethics at DePauw and visiting professor of anthropology, is co-curator of a new exhibition at the Princeton University Art Museum, "Gifts From the Ancestors: Ancient Ivories of Bering Strait." According to Princeton's Town Topics, "Showcasing artwork from both the Russian and American sides of the Bering Strait ... (the exhibition)offers a unique view of the ancient art and culture of Native populations from that region."
Dilshanie Perera writes, "As one enters the exhibition, many of the ancient ivories are presented against a blank background, with the archeological
conditions under which they were found, as well as various uses for the objects made apparent as one traverses the exhibit space. Visiting Assistant Professor of Anthropology from DePauw University Julie Hollowell, who is also a curator of 'Gifts from the Ancestors,' observed that the carvings were "'o artistically and technically made, but were functional objects too,' with a number of them playing a role in hunting and sewing."
The exhibition continues through January 10, 2010.
Access the story by clicking here. Also available is an announcement at the museum's Web site.
Learn more about Professor Hollowell in this previous article.
Back