New Academic Building, Harrison Hall, is Dedicated
June 10, 1938
June 10, 1938, Greencastle, Ind. — John H. Harrison Hall, a new academic building to be located on the site of the former Middle College, was dedicated in ceremonies today on the DePauw University campus. When completed, Harrison Hall will become a handsome counterpart to Asbury Hall, standing directly across from it. (photo: Roy O. West, chairman of the building committee; Charles Barnaby; Mrs. John H. Harrison; Professor Emeritus Henry B. Longden; President Clyde Wildman; and Edwin C. Hewes, editor and publisher of Illinois' Danville Commercial-News)
The three-story red brick structure wil feature wide chimneys and dormer windows, and will house up-to-date classrooms and laboratories for the departments of botany, zoology, geology and psychology.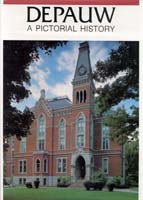 Harrison Hall will also contain the first elevator to be installed in any of the University's buildings. It is expected to open in 1940.
A member of DePauw's Class of 1890 and a member of the University's Board of Trustees, John Higgins Harrison was publisher of the Commercial-News in Danville, Illinois. He died in 1930. His estate provided $600,000 to the University.
Learn more about Harrison Hall and the history of the University in DePauw: A Pictorial History, accessible online by clicking here.
Back