Sportswriter Joe Goddard '60 Inducted Into HS Hall of Fame
October 14, 2009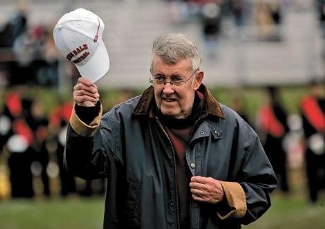 October 14, 2009, Greencastle, Ind. — Joe Goddard, veteran sportswriter and 1960 graduate of DePauw University, has been inducted into the Hinsdale Central High School Foundation Hall of Fame. Goddard's columns have appeared in the Chicago Sun-Times and in the Doings of Hinsdale, a Chicago suburb. (photo: Curtis Lehmkuhl/Doings)
"I've had four things really monstrous, real highlights of my life, and then here comes this one," says Goddard, who was inducted Friday night and honored at halftime of Saturday's football game at the high school (seen in photo above). "To see the faces of loved ones, all of the people who I have written about, was very emotional for me."
Bill Stone writes, "Goddard did all of the writing for the Doings sports section, including 'Time Out', when he first started in 1969 while also working on the copy desk for the Chicago Sun-Times. He cut back to his column after becoming a Sun-Times baseball beat writer late in the 1973 season, and he covered the Chicago

Cubs and Chicago White Sox full-time until 2000. Goddard left the Sun-Times in 2006" after 42 years of service.
The Doings notes that the Hinsdale Central High School Foundation "was founded in 1993 to provide support to the high school through alumni, parents, community members and business leaders. The Hall of Fame was established to recognize distinguished alumni or friends of the high school and had its first inductees in 1997.
Read the complete story -- "One more highlight for Goddard: The Doings columnist honored to be in Central Hall" -- at the newspaper's Web site.
Goddard is a two-time runner-up nominee for the Baseball Hall of Fame and was runner-up for the 2003 J.G. Taylor Spink Award, which is presented annually by the Baseball Writers Association of America to a sportswriter "for meritorious contributions to baseball writing." Learn more in this previous article.
Back