Dennis Bland '87 Honored for His Community Leadership
October 14, 2009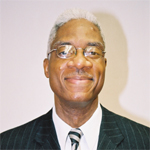 October 14, 2009, Greencastle, Ind. — Dennis E. Bland, president of the Center for Leadership Development and 1987 graduate of DePauw University, is the recipient of Marian University's Franciscan Values Award. Bland was honored for his leadership in the community. The award goes to a person "deemed to exemplify the teachings of St. Francis of Assisi, including making efforts to serve others," writes Cathy Kightlinger in the Indianapolis Star.
Access her column at IndyStar.com.
In March 2007 column, Star editor Dennis Ryerson wrote, "For 30 years the Center for Leadership Development has helped minority high school students develop personal and leadership skills so they are better able to succeed in college and careers. The record is impressive ... If you young people from all sectors of our community don't succeed, Indianapolis won't succeed. Dennis Bland, a

soft-spoken, modest, thoroughly religious man, and the Center for Leadership Development he heads are making success possible for thousands of young people who otherwise might not have had the chance. It's a story that's got to be told again and again."
Read more about Dennis Bland in this story.
Back