"Artisan" John Lesch '77 Profiled in Indianapolis Star
October 15, 2009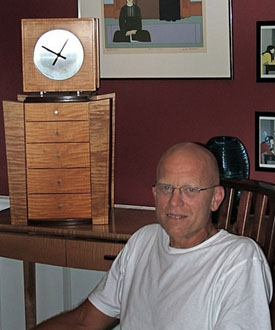 October 15, 2009, Greencastle, Ind. — "John Lesch found his life's work in wood," writes T.J. Banes in today's Indianapolis Star. "When the graduate of Brebeuf Preparatory School and DePauw University took a job at an Indianapolis woodworking shop right after college, his career was born."
"When I was in college, I had an inclination toward woodworking," Lesch, who is a 1977 DePauw graduate, tells the newspaper. "I graduated with a degree in anthropology, but when I got out, I had a lot of people who recognized a talent and encouraged me to pursue it as a career.

Self-employed and based in St. Louis, Lesch declares, "I consider myself an artisan -- a combination of craftsperson and artist. Even though I don't design most of the work I make, I don't mass- produce pieces. I build one-of-a kind furniture ... Part of the secret is to educate people that furniture is an investment ... I build furniture that will last 50 to 100 years. On any given trash pick-up day, there are stacks of furniture that didn't last. People need to understand that furniture is not a disposable resource."
You'll find the complete text at IndyStar.com.
Back