Atlantic Columnist Cites "Ethics Specialist" Prof. Bob Steele '69
October 18, 2009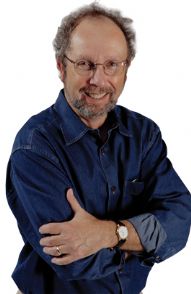 October 18, 2009, Greencastle, Ind. — "Bob Steele, an ethics specialist at DePauw University in Indiana and the Poynter Institute in Florida, concedes that there's no true meritocracy in most of our lives and that connections will always open doors to opportunities, including admissions and jobs," writes James Warren in the Atlantic. Dr. Steele, Eugene S. Pulliam Distinguished Visiting Professor of Journalism at DePauw, is cited in a piece which examines, among other things, the recent controversy over admissions policies at the University of Illinois and a private school's decision to not admit the son of rock star Bono.
Warren writes, "And even if one reflexively
assumes that such ties largely benefit the most well-to-do, door-opening has always been rife, whatever one's location on the socio-economic ladder. Just consider all the kids who followed (mostly) fathers into the well-paying mills and auto plants, and into the trades. Ditto those who found coveted public sector positions in police stations and fire houses. That's not to say that fairness doesn't, and shouldn't, remain a core value in professional and personal relationships, and in decision-making in general. It's just an early reminder that the matter is more nuanced than some might assume."
Access the complete column, "On Bono, Favoritism and College Admissions," at the magazine's Web site.
A 1969 graduate of DePauw, Bob Steele is one of the nation's leading media ethicists. Last month he was quoted in TIME magazine and was cited in "The Public Editor" column in the September 6 New York Times.
Back