Former VP Dan Quayle '69 on Economic Recovery, Obama Diplomacy
October 16, 2009
October 16, 2009, Greencastle, Ind. — "We had the Reagan recovery from 1983 to 2008; sometime, there will be an Obama recovery," says America's 44th Vice President, Dan Quayle. "The question is what kind of recovery we're going to have. And the policy prescription of Reagan versus Obama is really the opposite, so we're going to have a real good case study in a few years."
Quayle, a 1969 graduate of DePauw University, told Indianapolis' WIBC radio "it's not the last year's run of bailouts that has galvanized Republican opposition to the Obama Administration, but their scope," according to reporter Eric Berman's account. "In a meeting with reporters, he steered clear of criticizing Obama directly. He notes at the beginning of the year, many in Washington and on Wall Street feared the economy was about to go over a cliff. But Quayle says while the stimulus helped to ease what he calls a psychological crisis, he's unconvinced it's created jobs. Quayle says that has to be the administration's focus now."

The report adds, "And while Quayle acknowledges there was international discomfort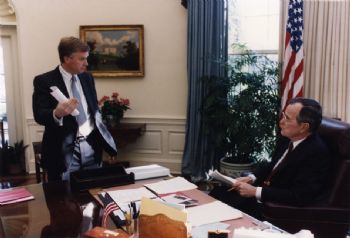 with [George W.] Bush's blunt-spoken foreign policy, he cautions Obama not to let his preference for diplomacy get in the way of American strength. He says world leaders consistently told him during his travels as George H.W. Bush's vice president that they'd prefer the U.S. to err on the side of being too strong, not too weak."
Access the complete story, complete with an audio file, at the radio station's Web site.
Dan Quayle is chairman of the international division of Cerberus Capital Management and president of Quayle and Associates. In August, he offered his thoughts on the passing of his former senate colleague Edward M. Kennedy, with whom he co-authored the Job Training Partnership Act of 1982. Read more in this article.
Back