Decision to Decline TV Show a Family Matter for Dan ('69) and Corinne ('43) Quayle
October 18, 2009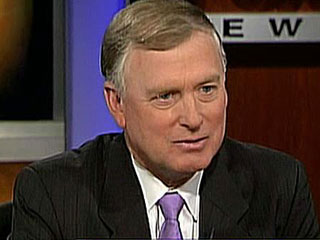 October 18, 2009, Greencastle, Ind. — In today's Indianapolis Star, Dan Quayle -- the 44th Vice President of the United States and 1969 graduate of DePauw University -- reveals why he turned down a request to appear as a contestant on TV's Dancing With the Stars: his mother. Corinne Pulliam Quayle, a 1943 DePauw graduate, "was instrumental in his decision not to appear on the show," notes the "Behind Closed Doors" column.
Dan Quayle tells the newspaper, "My mother actually called me up and told me that I'm not a good dancer. Yes, I'm serious. So you listen to your mother," he said with a laugh. "I said, 'Well, Mother, I'm actually a pretty good dancer. What are you talking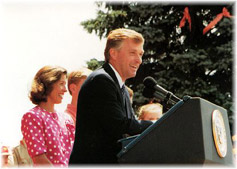 about?' She said, 'No, you were never a good dancer. Don't do it.' So how's that for an endorsement?"
In the piece, Quayle also offers his assessment of a possible presidential run by Indiana Governor Mitch Daniels ("he certainly would be fully qualified, very competitive and could possible be the nominee and give Obama a good run"), and discusses the thing he misses most about being vice president ("Air Force 2. I'm schlepping my bags through the TSA screening facilities. So I get treated just like everyone else.").
The complete piece can be found at IndyStar.com.
Quayle -- who was elected to two terms in both the U.S. House of Representatives and Senate before being selected as George H.W. Bush's running mate -- is currently chair of the international division of Cerberus Capital Management. Read more about him in this recent story.
Back