Prof. Jeff McCall '76 Discusses "Partisan Pop Culture" in Dallas Morning News
October 18, 2009
October 18, 2009, Greencastle, Ind. — These days, "It's not just pop culture influencing politics; it's politics influencing pop culture, giving rise to the latest product of our blurry age: partisan pop culture," writes Tom Maurstad in today's Dallas Morning News. The way the recent cases of David Letterman and Roman Polanski have played out lead the columnist to believe that the entertainment industry is losing its "traditional role as society's playground -- that dimension of public life disconnected from the substance and stress that's necessarily attached to everything else."
Jeffrey M. McCall, professor of communication at DePauw University and author of Viewer Discretion Advised: Taking Control of Mass Media Influences, is one of two experts Maurstad calls upon for analysis.
"What's worrisome about this is the way it harshens culture," Dr. McCall tells the Texas newspaper. "Ideology and partisanship bring stress and remove the opportunity to interact without that sense of pressure and noise. It shuts down interaction rather than facilitating it."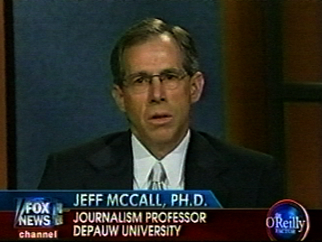 The complete column -- "Partisan politics pervade pop culture world" -- can be found at the Morning News' Web site.
A 1976 graduate of the University, Jeff McCall is a widely quoted expert on media matters and has been cited in articles published by approximately 100 newspapers. On September 21, the professor was quoted in a New York Times article on CBS anchor Katie Couric. He writes op-eds for newspapers, including the Indianapolis Star and Atlanta Journal-Constitution, and has appeared eight times on FOX News Channel's O'Reilly Factor. McCall was also recently quoted by Froma Harrop in her nationally distributed Creators Syndicate column.
Source: Dallas Morning News
Back