Columnist Praises "Compelling" New Book by "A Gem of a Congressman," Lee Hamilton '52
October 19, 2009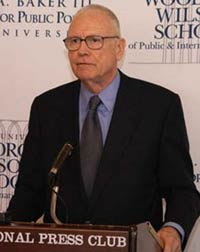 October 19, 2009, Greencastle, Ind. — The new book by veteran statesman and 1952 DePauw University graduate Lee H. Hamilton, Strengthening Congress, "should be required reading for members of Congress and the people they serve," writes Matthew Tully in the Indianapolis Star. "A decade after Hamilton's retirement, his book is yet another reminder that he was a gem of a congressman, diplomatic and serious, a smart politician but not mindlessly partisan. If there were more like him, Congress' approval rating likely would be much higher."
Hamilton, a Democrat who served 34 years in the U.S. House of Representatives, "wrote his book out of concern that Congress has been weakened over the decades as lawmakers have bowed to presidents, letting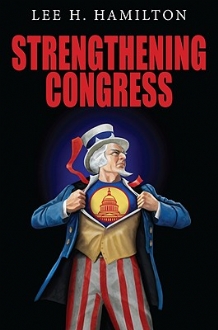 the White House set the legislative agenda while allowing partisanship to rip the body apart," Tully explains. "An obsession with the next election often has kept Congress from addressing the nation's biggest problems."
The columnist adds, "What's impressive about his book is its deep concern not with politics but with the stature of the body in which he served.Hamilton the author is as thoughtful as Hamilton the politician."
It concludes that Hamilton, who served as co-chair of both the 9/11 Commission and Iraq Study Group, "nearly begs those serving in Congress to take their jobs more seriously, to think about the future of the country and not just upcoming elections. He tells them to more actively serve as a check on the White House -- and not in the silly partisan ways we've come to expect. He urges lawmakers to have more thoughtful debates and to remember the House 'ought to be a beacon of open, deliberative and thorough debate.' It's an idealistic book, no doubt. But a compelling one."
The complete text can be found at IndyStar.com.
Access a recent op-ed column authored by Lee Hamilton here, and learn more about Strengthening Congress in this recent story.
Back