Senior's Trip to Czech Republic Featured in St. Louis Post-Dispatch
October 20, 2009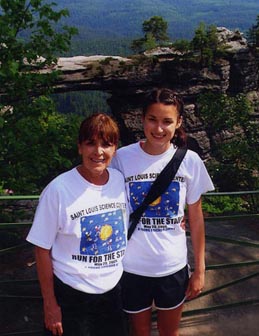 October 20, 2009, Greencastle, Ind. — "Connie Southworth and her daughter, Julie, of Eureka pose before a natural bridge in a mountainous area called Swiss Bohemia during a trip to the Czech Republic in May," notes the St. Louis Post-Dispatch, which published the photo seen at left. "Julie, who attends DePauw University, was studying abroad. Her mother joined her in May," notes the newspaper. Julie Southworth is a DePauw senior.
In the "Bring It On Home" travel feature, Connie Southworth notes, "We mixed in some type

of outdoor adventure every third day, so we didn't just see all city life."
Learn more at the paper's Web site.
DePauw ranks among the top 10 baccalaureate institutions in the nation for the total number of students who studied abroad in 2006-07, according to the 2008 Open Doors report. Learn more in this story.
Back