Newspaper Previews Premiere of Lincoln Tribute by Dorn Younger '64
October 21, 2009
October 21, 2009, Greencastle, Ind. — ''What I wanted to represent musically were the influences on his life,'' 1964 DePauw University graduate Dorn Younger says of his new composition, Lincoln: A Symphonic Tribute. The piece, which will receive its world premiere Saturday by the Summit Choral Society in a performance at Ohio's Cuyahoga Falls High School, is noted in today's Akron Beacon Journal.
The 30-minute work takes an "impressionistic approach" and is not a "literal representation of Lincoln's life," writes Kerry Clawson. "His six-movement work for orchestra and choir includes ''Song of the Prairie,'' begun by the children's choirs and reflecting Lincoln's Midwest values, honesty and work ethic. 'Song of Slavery' speaks to the major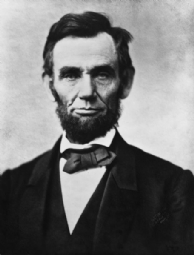 issue of Lincoln's presidency that tore the country apart. The key changes from minor to major, indicating that the slaves' spirits and dreams of freedom could not be crushed. 'Song of the Freedom Train' is a hopeful movement depicting the Underground Railroad. 'Song of the Fallen,' evoking the Civil War, juxtaposes strains of the southern Dixie with the northern Battle Hymn of the Republic, with Taps interwoven ... In 'Song of Vision,' Dorn uses Lincoln's own words from his famous Gettysburg Address and Second Inaugural Address."
The North and South are both represented in the piece. As Younger says, ''We're not taking sides. Lincoln wanted the nation to be whole.'' The composer adds, ''In my opinion, he's by far the greatest
president we've ever had. He saved the nation.''
Clawson points out that Younger was commissioned to compose Lincoln: A Symphonic Tribute by Frank C. Jacobs, a 1966 DePauw graduate and founder and artistic director of the Summit Choral Society. As DePauw students, the two men were founding members of The Men of Note, and reconnected nearly forty years later at the group's 2004 Old Gold Weekend reunion concert. ''I am proud to be the first conductor to bring these works to life and am absolutely confident that I will not be the last," Jacobs states.
You'll find the complete story -- "Summit Choral Society readies Lincoln tribute," which includes details of Saturday's concert -- at the newspaper's Web site.
Learn more in this recent article.
Back