Video by Two Students Takes Prize in Statewide Contest
October 23, 2009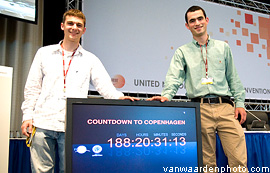 October 23, 2009, Greencastle, Ind. — The Hoosier Environmental Council has announced the winners of its first-ever statewide "Green Energy NOW!" video contest, and a team of students from DePauw University is among them. Anthony Baratta and Taylor Cantril produced a video that was recognized as the "Most Thoughtful" in the inaugural contest. Baratta and Cantril are both members of the DePauw Environmental Policy Project, which allows students to identify, research and testify on environmental issues relevant to Indiana, the United States and the world. (photo, l-r: Cantril and Baratta)
Cantril has worked as a sustainability intern at DePauw and was instrumental in beginning the research on DePauw's carbon footprint. Baratta has served as the co-president of the DePauw Environmental Club and successfully worked with others to secure the signature of DePauw President Brian W. Casey for the American College and University Presidents' Climate Commitment.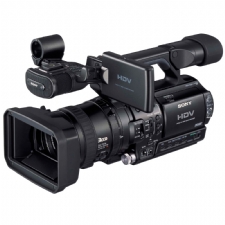 "Climate change is a frustrating, complex issue," Barratta said, reflecting on the focus of the video contest. "One reason I am taking action to reduce C02 is because I want to stop the injustice we are committing on impoverished countries."
The contest is aimed at providing Hoosiers of all ages with a fun and creative way to share how they are fighting the effects of climate change in their daily lives and why they are advocating for federal clean energy and climate legislation.
"It has been a pleasure viewing the submissions for our video contest," said Jesse Kharbanda, HEC's executive director. "The extraordinary talents and passion of Hoosiers were clearly on display."
Read more by clicking here.
Back