Mary Meeker '81 Discusses Robust Growth of Smartphone Technology
October 23, 2009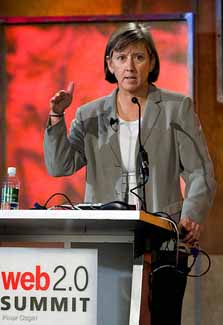 October 23, 2009, Greencastle, Ind. — "Smartphone technology -- a PC in your pocket -- 'is ramping faster than any tech cycle I've seen in modern times,' said Mary Meeker, an influential technology analyst at Morgan Stanley," notes USA Today in a report on this week's Web 2.0 Summit in San Francisco. Meeker, a 1981 graduate of DePauw University, added, "That this is all happening in a recession is a very good thing to happen to our industry."
The story by Jefferson Graham begins, "They came to talk about not-so-distant future technology, where cash is a relic, we've all but ditched the PC in favor of the mobile phone and the entire cable TV 500-channel universe -- including pay TV -- can be seen online, any time of the day."
Read the complete text at the newspaper's Web site. Meeker's presentation, "High Order Bit: The State of the Capital Markets, Version Six," is also available at YouTube.

Mary Meeker serves as leader of Morgan Stanley's global technology research team, co-covering U.S.-based internet and consumer software companies. She was an early and consistent believer in online opportunities and has been called "Queen of the Internet."
After earning a B.A. from DePauw, where she majored in psychology, Meeker received an M.B.A. in finance from Cornell University.
She spoke at the Symposium for DePauw Entrepreneurs on October 6, 2001. A story that includes video and audio clips from that presentation can be accessed here.
Back