NY Times' 'Career Couch' Calls Upon DePauw's Steve Langerud for Advice
October 25, 2009
October 25, 2009, Greencastle, Ind. — The "Career Couch" column in today's New York Times offers, "You may feel compelled to give career advice because you see particular talents in your child, but parents are more limited by their own experience than they think, said Steve Langerud, director of career services at DePauw University in Greencastle, Ind." Columnist Eilene Zimmerman adds, "As well-meaning as the advice might be, it 'doesn't take into account what's going to be available to your child in the future,' he said."
Langerud, who came to DePauw this fall from Grinnell College, tells the Times, "The market is changing so fast there may be careers that exist when a student gets out of college that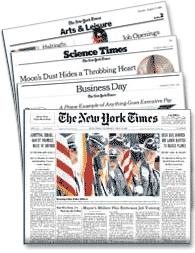 simply didn't exist when they started."
Zimmerman writes, It can be more effective to have children look at themselves functionally. Rather than asking, 'What do you want to be?,' pose these questions: 'What skills do you have? What kinds of people do you like to work with? In what kind of environment?' This is a way to think about a career without necessarily naming it, Mr. Langerud said. 'You describe yourself in a functional way and then figure out what that's called and if people get paid to do it,' he said."
Langerud was called upon to help answer the question, " What, if anything, can parents of high-school-age children do to guide them toward their true professional calling?"
Read the complete column at the Times' Web site.
Learn more about Steve Langerud in this recent feature article.
Back