DePauw Claims Overtime Win at Hendrix
October 25, 2009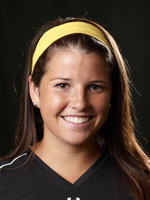 October 25, 2009, Conway, Ark. — Kimberly Trainor's goal in the first overtime on Bridgette Shamleffer's assist lifted DePauw to a 2-1 Southern Collegiate Athletic Conference win at Hendrix.
DePauw improved to 10-7 overall and 4-3 in the SCAC, while Hendrix dropped to 3-10 overall and 1-6 in the conference.
The Tigers took the early lead on Addie McDonnell's goal at 14:57 with Shamleffer assisting. Hendrix forced the overtime when Abby Coleman scored with 43 seconds left in regulation on Taylor LaFortune's assist.
Hendrix held a 19-13 shots advantage and a 17-7 margin in penalty corners. Liz Attewell totaled nine saves for the Tigers, while Alyssa Havens had nine for the Warriors.
DePauw hosts Sewanee on Saturday, October 31, in the final game before the SCAC tournament.
Follow DePauw Athletics on Twitter | Become a Fan of DePauw Athletics on Facebook
Back