"Technology Alone" Won't Keep Kids from Adult TV Content, Opines Prof. Jeff McCall '76
October 27, 2009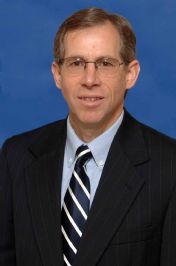 October 27, 2009, Greencastle, Ind. — "While it is certainly true that technology can and should play a role in protecting kids from content they shouldn't see, technology alone is unlikely to provide effective results," writes Jeffrey M. McCall in today's Muncie Star Press. "To suggest otherwise would be to think there is no need for speed limits on our highways because all cars have speed-blocking devices known as brakes."
McCall, professor of communication at DePauw University and author of Viewer Discretion Advised: Taking Control of Mass Media Influences, begins his op-ed by declaring, "Perhaps the most sensible voice at the Federal Communications Commission in recent years has been Commissioner Michael Copps. Copps was on target again when he responded recently to a wimpy report by the FCC that was supposed to address how parents can effectively protect their kids from inappropriate media content. The report was mandated by Congress as a result of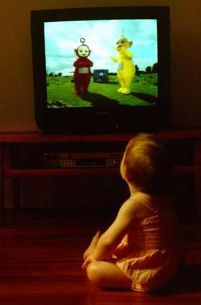 the Child Safe Viewing Act of 2007 -- spearheaded by Senators Mark Pryor of Arkansas and Kay Bailey Hutchison of Texas. Its title says it all. The FCC's report, however, provided little guidance for protecting kids from harmful content on the wide range of media platforms. The report pretty much just had the FCC throwing up its hands, saying that current program-blocking technologies either aren't being used or are ineffective."
The v-chip and other so-called blocking devices aren't keeping kids from adult programs, and the rating system for programs fails to take into account commercials, which often have adult themes, Dr. McCall opines. The professor puts little faith in TV Watch, "an organization consisting of and funded largely by big media organizations and producers. TV Watch has a long-running public relations campaign to promote blocking technology and parental responsibility, but it remains totally quiet with regard to big media's corporate responsibility to children or the culture at large."
In the words of Copp, "In the final analysis, it may be that other tools -- a voluntary code of conduct, a Commission rule, a federal statute --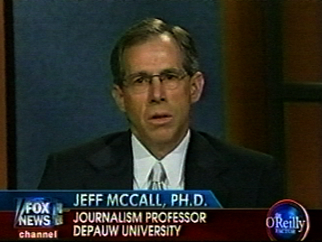 may be needed to meet the goals of true child safe viewing."
McCall concludes, "The FCC would be wise to follow Copps' call for multiple strategies in promoting safe TV viewing for children."
Read the complete column at the newspaper's Web site.
A 1976 graduate of DePauw, Jeff McCall is frequently called upon as an expert on media matters and has been cited in articles published by approximately 100 newspapers. Last week alone, he was quoted in stories by ABC News and Canada's National Post on the use of children in reality shows such as Jon & Kate Plus 8, and talked with the Dallas Morning News about "partisan pop culture." On September 21, the professor was quoted in a New York Times article on CBS anchor Katie Couric.
Back