Angie Hicks '95 Receives McDermond Medal for Excellence in Entrepreneurship
October 27, 2009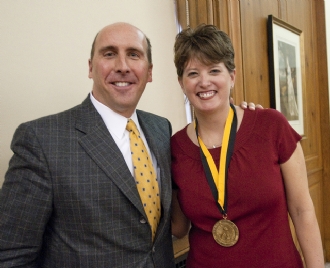 October 27, 2009, Greencastle, Ind. — Angie Hicks, the 1995 DePauw University graduate whose entrepreneurial idea right out of college led to the creation of Angie's List, was honored today with DePauw's Robert C. McDermond Medal for Excellence in Entrepreneurship. Hicks was presented with the McDermond Medal this afternoon as she delivered a lecture to Management Fellows at her alma mater. (at left: DePauw President Brian W. Casey with Angie Hicks today)
Knowing that the frustrations she and her friends had finding good contractors were not unique, in 1995 Hicks literally set out door-to-door in Columbus, Ohio, recruiting members and collecting reports from friends and neighbors. Taking the "ask-your-neighbor" approach to a higher level, she used the detailed feedback from members as the basis for providing up-to-date, reliable, unbiased ratings and reviews on local services.
After the first year, with more than 1,000 members throughout Columbus, Hicks had laid the foundation for what would become one of the fastest growing companies in the U.S. Over
these last 14 years, she has led the list's expansion from a 100 square foot office to an operation that now covers more than 124 major cities across the U.S. and serves more than 1 million consumers.
Hicks, who was a Management Fellow and economics major at DePauw and earned an M.B.A. from Harvard Business School, contributes to consumer news stories that are seen or read on/in CNN, the Washington Post, New York Times, Redbook, Real Simple, USA Weekend, Good Housekeeping, Kiplinger's Personal Finance, and the Wall Street Journal.
In 2007, DePauw honored her with a Distinguished Alumni Award for Management and Entrepreneurship. She was named a Torchbearer Award winner in March 2009 by the Indiana Commission for Women, in recognition of her entrepreneurial accomplishments and for providing a positive example of the influence women have on their community and the state of Indiana.
The Robert C. McDermond Medal is named for the 1931 graduate of DePauw who endowed the University's Center for Management and Entrepreneurship and the Management Fellows Program. It is awarded to individuals who have played a key role in the formation or growth of an entrepreneurial business venture and/or assisted others in establishing entrepreneurial businesses and who have displayed creativity and innovation in entrepreneurial
leadership.
McDermond Medal Recipients
2009 - Angie Hicks, founder & chief marketing officer, Angie's List
2008 - David Becker, CEO and chairman, First Internet Bank of Indiana
2007 - Frank Hagaman, president, Partners in Housing Development Corporation
2006 - Allan Hubbard, Assistant to the President of the United States for Economic Policy, director of the National Economic Council and president of E & A Industries
2005 - Patricia R. Miller, Secretary of Commerce, Indiana Department of Commerce
2004 - Jan Davidson, president and co-founder, The Davidson Institute
2003 - William A. Cook, CEO, Cook Group, Inc.
2002 - Jack M. Gill, Ph.D., senior adviser of CIMIT, research scientist, lecturer, Harvard Medical School
2001 - Jeffrey Smulyan, president, CEO and chairman of Emmis Communications
2000 - Richard M. Schulze, founder, chairman, and CEO of Best Buy Company, Inc.
Learn more about Angie Hicks in this recent story.
Back