Comedy Central's Jon Stewart Interviews Upcoming Ubben Lecturer Steven Levitt
October 27, 2009
October 27, 2009, Greencastle, Ind. — "I find this kind of stuff really fascinating," Jon Stewart told SuperFreakonomics co-author Steven Levitt, who was a guest tonight on Comedy Central's The Daily Show. Levitt will appear at DePauw University November 30 as a guest of the Timothy and Sharon Ubben Lecture Series. He visited Stewart's program to discuss his new book, the follow-up to the international bestseller Freakonomics.
"I try to take on topics that are interesting and strip away the moralism," Levitt told Stewart. The new book examines provocative questions such as: Which adds more value: a pimp or a Realtor? And, what's more dangerous, driving drunk or walking drunk?
See the entire segment at the program's Web site.
SuperFreakonomics: Global Cooling, Patriotic Prostitutes, and Why Suicide Bombers Should Buy Life Insurance, is co-authored by Levitt and Stephen Dubner.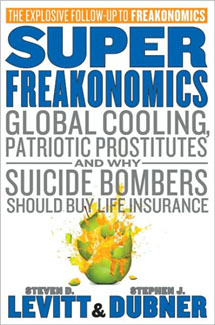 "Thank goodness they are back -- with wisdom, wit and, most of all, powerful economic insight," writes Russell S. Bock, professor of public economics at Claremont McKenna College, in a Los Angeles Times review of the new book. He adds, "the Steves wryly, humorously and almost sadistically remind us that we are slaves to our own failures to parse situations into basic economic components. They consider three key areas: first, we must understand individual incentives and how this drives strategic behavior; we also need to understand market behavior and how changes in government policy or social culture can help us to better understand individual incentives; and third, little can be understood without finding some data and thoughtfully dissecting it."
Steven D. Levitt is the William B. Ogden Distinguished Service Professor of Economics at the University of Chicago, where he directs the Becker Center on Chicago Price Theory. Learn more about his Ubben Lecture at DePauw, which is free and open to the public, in this previous story.
Back