DePauw Tickets for November 14 Monon Bell Classic are Sold Out
October 29, 2009
Also: Pre-Order Your 2009 Monon Bell DVD

[Download Video: "Ballad of the Monon Bell - 2007 Version" - 10,419kb]

[Download Audio: "Ballad of the Monon Bell - Stereo" - 2514kb]
October 29, 2009, Greencastle, Ind. — Tickets for the DePauw University side of Blackstock Stadium for the 116th Monon Bell Classic are now sold out. Approximately 70 tickets remained this morning and were accounted for within 20 minutes. DePauw's Office of Student Life began the ticket distribution process Monday morning.
A game day brunch-ticket package is still available in limited numbers from DePauw's Alumni office. [UPDATE 10:10 a.m. - These tickets are also sold out.] The $30 package includes a pre-game
brunch at Walden Inn and a game ticket. Details can be found here.
Kickoff for the 116th football meeting between DePauw and Wabash College and 78th for possession of the Monon Bell is set for just after 1 p.m. on November 14 at DePauw's Blackstock Stadium.
Gates open at 11:30 a.m. and the Blackstock parking lot will open to the public at 9 a.m. There will be a $5 fee for parking in the Blackstock lot. Complete parking and tailgating information is available here.
This year's game will again be telecast across America on the high definition network HDNet with telecast parties arranged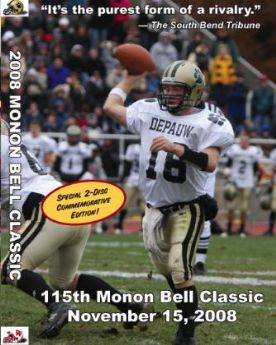 by DePauw and Wabash alumni in over 60 cities.

Pre-orders are being accepted for the limited edition DVD of the 116th Monon Bell Classic, and limited copies of the 2001-08 games remain available. The discs are professionally replicated and contain bonus materials. Details and an online order form can be found here. (at left: cover of the 2008 Monon Bell DVD)

The all-time series is tied 53-53-9, while DePauw leads in games played for the Monon Bell by a 37-34-6 count after last year's 36-14 win in Crawfordsville. Access DePauw's Monon Bell Web page here.
A complete roster of "Monon Memories" -- 115 video highlights of all the past games -- can be found here.

[Download Video: "2008 Monon Memory" - 4105kb]
Back