Barbara Kingsolver '77 on New Book & USA's "Suspicion of Political Art"
October 30, 2009
October 30, 2009, Greencastle, Ind. — When beginning work on her new book, The Lacuna, "I wondered why it is that politics have such a peculiar relationship to the arts in the United States," Barbara Kingsolver tells New Hampshire's Portsmouth Herald. The 1977 DePauw University graduate says, "Art and politics are considered fairly inseparable in other parts of the world, but why not here? I had a feeling it happened during the McCarthy era, but why would it last 50 years? Why didn't we get over it? What happened in the middle of the 20th century that left us so suspicious of political art? So I dug into the history books, and took an emotional trip through this era."
The author adds, "After Sept. 11, 2001, the whole country was primed to react fiercely against artists who betrayed any sense of dissident politics. And I came to understand it's bred into us as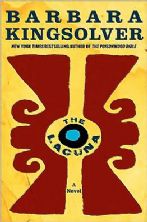 Americans. We're not just suspicious of political art but of dissidents."
With The Lacuna, which will arrive in bookstores next week, Kingsolver has "penned an enduring novel that firmly establishes her as one of America's most intelligent and inventive writing talents," writes Deborah Mcdermott. "Kingsolver stretches her writing muscles even further than she did in her critically acclaimed novel The Poisonwood Bible, a mature novelist comfortable in taking the form in different and unexpected directions. There are glimmers of her early novels like The Bean Tree, in the interesting plots and well-drawn characters, but The Lacuna is a significantly more ambitious and ultimately much more enduring work."
Read the complete story at the newspaper's Web site.
Last weekend, Barbara Kingsolver was the subject of a feature in the Minneapolis Star Tribune.
Her twelve books of fiction, poetry, and creative nonfiction have been translated into nineteen languages, Kingsolver's work has won a devoted worldwide readership and many awards, including the National Humanities Medal.
In 1994, Barbara Kingsolver delivered the commencement address at DePauw, and was also awarded an honorary degree during the ceremony (seen in above photo). A summary of her speech -- including an MP3 of the complete address, which was titled "As Little Advice as Possible" -- can be found here.
Back