Star Columnist Expects Crowd for DePauw-Butler Men's Hoops Exhibition
October 29, 2009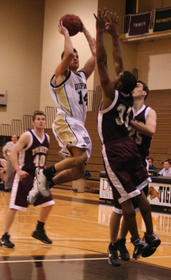 October 29, 2009, Greencastle, Ind. — "It will be revealing to see what attendance is for Sunday's 7 p.m. game against DePauw at Hinkle Fieldhouse," writes the Indianapolis Star's David Woods. "It's only an exhibition with an unusual tipoff time, but the excitement about this team is such that I would not be surprised by a crowd exceeding 4,000. It's also a good event for DePauw alumni living around Indianapolis."
Woods, who covers Butler basketball and coach Brad Stevens '99, notes, "I knew Butler would be ranked in both major preseason polls, but it was a bit astounding to see today's release:
10th in the ESPN/USA Today coaches' poll, 11th inthe Associated Press. That is as high as I have seen Butler in any Web site or magazine preview ... Butler has never before been ranked in the preseason."
Read more at IndyStar.com.
DePauw opens regular season play on Friday, November 20, when it faces Bluffton at the Albion College Tipoff Tournament. See the complete 2009-10 schedule at the team's Web site.
Back