USA Today Commentary Quotes Prof. Jeff McCall '76
October 30, 2009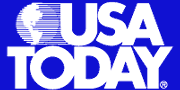 October 30, 2009, Greencastle, Ind. — A column on the use of children in reality television programs, published today by USA Today, includes analysis from Jeffrey M. McCall, professor of communication at DePauw University.
As the piece points out, not only are parents deciding whether their children will appear in shows such as Kid Nation, but thanks to reruns, syndication, and viewer memories, the behavior kids display in the programs may be seen for a long time. McCall tells the newspaper, "When you're on national TV, that history is going to follow you around."
Aimee Phan writes, "Though TLC's Jon & Kate Plus 8 was investigated last summer for possibly violating child labor laws, the network claims to comply
with state laws. Reality programs are not obliged to follow the same regulations of scripted TV and film production regarding child actors. But McCall says, 'Even if children are not professional child actors, they deserve some sort of protection. They've become props for the benefit of television, producers and, ultimately, advertisers.'"
Phan, an assistant professor in writing and literature at the California College of the Arts in Oakland, notes that reality shows include many "displays of bad parenting" and that the recent case of the so-called "Balloon Boy" "has provoked some child advocates to call for legal protection for these minors."
Read the complete commentary at USA Today's Web site.
A 1976 graduate of DePauw, Jeff McCall is author of Viewer Discretion Advised: Taking Control of Mass Media Influences. In recent days, he has also discussed reality shows and children with ABC News and Canada's National Post and talked with the Dallas Morning News about "partisan pop culture." On September 21, the professor was quoted in a New York Times article on CBS anchor Katie Couric.
Earlier this week, Dr. McCall authored an op-ed on the attempts to keep adult television programming from children. Access it here.
Back