DePauw Taught Brad Stevens '99 to "Think Creatively," Notes Star
November 2, 2009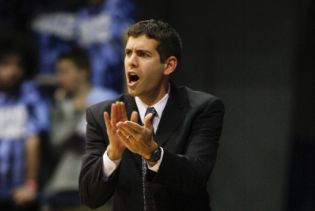 November 2, 2009, Greencastle, Ind. — Butler University head men's basketball coach Brad Stevens "played at DePauw under coach Bill Fenlon," writes the Indianapolis Star's David Woods in a summary of last night's DePauw-Butler exhibition game. "Besides the basketball experience, Stevens said, the university helped teach him to think creatively. Stevens said he scheduled DePauw not because he played there, but because its style of play is different from Butler's." Stevens is a 1999 graduate of DePauw University.
Read more at IndyStar.com.
Butler, ranked #10 and #11 in national Division I polls, defeated DePauw 77-45 at Hinkle Fieldhouse. "This was a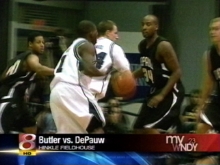 little different experience for us," Fenlon tells the newspaper, which reports 4,660 were in attendance last night.
The Star's game wrapup is available here.
Indianapolis CBS affiliate WISH-TV aired highlights of the game. Access them via this previous story.
Back