Article on Social Media and College Admissions Cites DePauw
November 3, 2009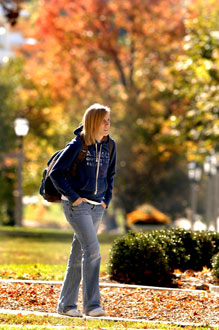 November 3, 2009, Greencastle, Ind. — "These days, nearly every Indiana college and university is using social media to connect with potential students and build community among incoming freshmen," notes a higher education supplement to the Indianapolis Star. Ashley Petry writes, "at DePauw University, 25 percent of incoming freshmen say they used Facebook to decide which college to attend."
Christopher Wells, senior adviser to the president and interim vice president of admission and financial aid at DePauw, tells the publication that prospective students should weigh the information they find at social networking sites and blogs. "There's no guarantee that the information you're getting is accurate, because it's not official," he says.
Wells also advises students to carefully consider what they put on their personal Web pages. "You really want to post the things you're proud of, like service and extracurricular activities -- things you've done that are meaningful. You really want to put your best face forward, not just for college admission but for future career

options."
Access the article at IndyStar.com.
Visit DePauw's Office of Admission online by clicking here.
Back