"Respected" David Greising '82 Prepares for New Journalism Venture
November 4, 2009
November 4, 2009, Greencastle, Ind. — "Ask me if Jim O'Shea's Chicago News Cooperative has a chance to succeed and I'll say yes -- not because the concept is mesmerizing but because David Greising did his due diligence and then decided to sign on," writes the Chicago Reader's Michael Miner. "I guess I respect Greising about as much as anyone in Chicago journalism," Miner declares of the 1982 DePauw University graduate.
Greising announced his decision to leave the Chicago Tribune last week. He tells the Reader, "This is not about my leaving because I'm unhappy or have a grudge over the years. That's not what's going on here. What's going on is that I'm just about 50 years old and I see what's going on in print journalism. Beginning some months ago, I personally started to do some research -- if you're going to move beyond newspapers at this stage of journalism, how can you do it? More to the point, can you do it in a way that's sustainable and commercially viable? The press barons have made buckets of money. Why in this age can't people who do the same thing build a sustainable business?"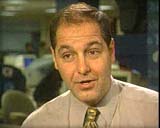 Read more at the weekly newspaper's Web site.
The editor of The DePauw while an undergraduate and the former Atlanta bureau chief for Business Week magazine, David Greising is the author of I'd Like the World to Buy a Coke: The Life and Leadership of Roberto Goizueta and co-authored Brokers, Bagmen and Moles: Fraud and Corruption in the Chicago Futures Market. In 2006, he won the Peter Lisagor Award for Exemplary Journalism. Learn more in this previous story.
Back