Columnist Praises Writings of James B. Stewart '73
November 3, 2009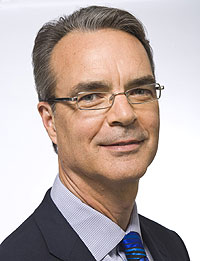 November 3, 2009, Greencastle, Ind. — In a San Jose Mercury News column analyzing the top financial publications, Cliff Pletschet writes of SmartMoney magazine, "The best columnist is James B. Stewart, whose work also appears occasionally in the Wall Street Journal. Stewart has an edge over other columnists because he has the authority to write about his own investment portfolio as he goes about helping readers." Stewart is a 1973 graduate of DePauw University.
Access the article, "Resources abound for investors," at the newspaper's Web site.
A member of DePauw's Board of Trustees and former chair of the group, James B. Stewart received a Pulitzer Prize for Wall Street Journal articles on the 1987 stock market crash and the insider-trading scandal. Stewart's books include Blood Sport, DisneyWar: The Battle for the Magic Kingdom; as well as Den of Thieves; Blind Eye; Follow the Story and Heart of a Soldier: A Story of Love, Heroism, and September 11th. In 2006, he won the Loeb Award, the highest honor in business journalism.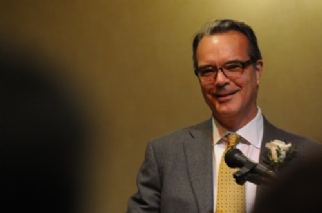 The San Francisco Examiner calls Stewart, who served as editor of The DePauw while a student in Greencastle, "the journalist every journalist would like to be." He is editor-at-large of SmartMoney and Bloomberg Professor of Business Journalism at the Columbia School of Journalism.
Jim Stewart received DePauw's Young Alumni Award in 1988, an Alumni Citation in 1988, and an honorary Doctor of Journalism degree in 1989. Last month, he was presented with the Old Gold Goblet at DePauw's 2009 Old Gold Weekend. His acceptance speech can be heard here:

[Download Audio: "James B. Stewart '73 Accepts Old Gold Goblet" - 6715kb].
Back