DePauw Climbs to #36 on Kiplinger's 'Best Values' List
November 4, 2009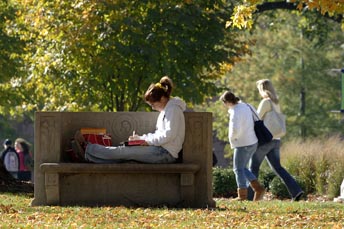 November 4, 2009, Greencastle, Ind. — Once again, DePauw University is rated among the nation's top 50 liberal arts colleges "that combine outstanding economic value with exceptional education," according to the December 2009 issue of Kiplinger's Personal Finance. DePauw climbs two spots to #36 in the magazine's 2009 "best values" list, which was released this morning. The magazine will be on newsstands November 10; the list is available online now.
DePauw is again the only Indiana liberal arts college to make Kiplinger's list.
The magazine lists 50 private liberal arts colleges and 50 private universities. Selected from a pool of more
than 600 private institutions provided by Peterson's, schools in the Kiplinger 100 were ranked according to academic quality and affordability -- with quality accounting for two-thirds of the total.
"This year's top 100 private schools met the challenges of a slumping economy with brio," says Janet Bodnar, editor of Kiplinger's. "With so many private institutions offering generous financial aid packages, families are finding that private college is still affordable. In fact, the average tuition price can be as little as half or less of the sticker price-making them very competitive with public universities."
Consistently recognized as one of the nation's top liberal arts colleges, DePauw University has graduated some of America's most prominent business, political and community leaders. Its student body of approximately 2,400 undergraduates comes from 42 states and 41 countries. A faculty of 233 ensures small class sizes which average 16 students (many are smaller), providing optimal opportunities for discussion, participation and one-on-one interactions.
The 2008 National Survey of Student Engagement puts DePauw freshmen and seniors in the top 10% of all colleges and universities for the level of academic challenge they experience. The study also ranks DePauw seniors in the top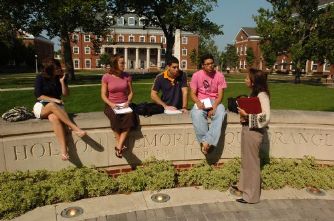 10% of all participating institutions nationwide for enjoying enriching educational experiences.
DePauw University also ranks among the top 10 baccalaureate institutions in the nation for the total number of students who studied abroad in 2006-07, according to the 2008 Open Doors report.
For the fourth consecutive year, DePauw University is listed among the "Top Producers of Fulbright Awards for U.S. Students" in a chart published last month in the Chronicle of Higher Education.
Prospective students are invited to visit DePauw's Office of Admission online.
Back