Student Engagement at DePauw Among Nation's Best, According to National Survey
November 9, 2009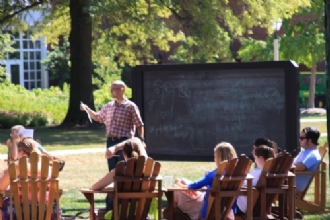 November 9, 2009, Greencastle, Ind. — The student experience at DePauw University provides far more academic engagement -- both in and out of the classroom -- than what is provided to undergraduates at peer institutions and the national average at all colleges and universities, according to a new national survey released today. The 2009 National Survey of Student Engagement (NSSE), "Assessment for Improvement: Tracking Student Engagement Over Time," again puts DePauw freshmen and seniors in the top 10% of all colleges and universities for the level of academic challenge they experience and also ranks DePauw seniors in the top 10% of all participating institutions nationwide for enjoying enriching educational experiences.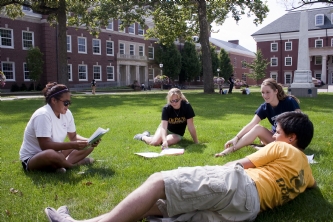 The report, released today, is based on a survey of approximately 360,000 randomly selected first-year and senior students at 617 U.S. colleges and universities. NSSE is sponsored by The Carnegie Foundation for the Advancement of Teaching.
"Prospective students and parents have an enormous amount of information to weigh as they consider colleges," notes DePauw President Brian W. Casey. "The methodology of NSSE captures an accurate snapshot of each college's strengths and how institutions compare with one another by using hard data. DePauw is very proud of the education and campus life it provides its students, and this report again confirms that what we offer is unique, compelling and powerful in American higher education."
"Colleges and universities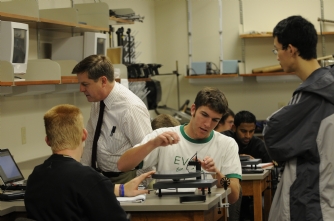 derive enormous internal value from participating in NSSE," says Muriel A. Howard. president of the American Association of State Colleges and Universities and a member of NSSE's national advisory board. "Of equal importance is the reassurance to their external publics that a commitment to and improvement of undergraduate education are high priorities."
Now in its eleventh year, NSSE's findings provide comparative standards for determining how effectively colleges are contributing to learning. Five key areas of educational performance are measured: level of academic challenge, active and collaborative learning, student-faculty interaction, enriching educational experiences, and supportive campus environment.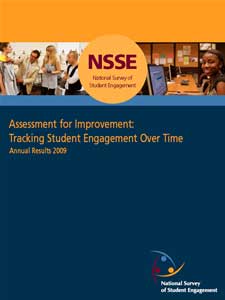 See how DePauw fared by clicking here.
Other highlights in the 2009 report:
68% of DePauw first-year students spend more than 15 hours per week preparing for class.
92% of first-year students feel DePauw places substantial emphasis on academics.
By their senior year, 55% of DePauw students have studied abroad; 87% have participated in community service or volunteer work.
92% of DePauw seniors at least occasionally discuss career plans with members of the faculty.
By their senior year, 82% of DePauw students have participated in some kind of practicum, internship, field experience, co-op, or clinical assignment; 30% have done research with a faculty member.
Nationally, NSSE found that 41% of institutions showed positive trends in at least one quality measure for first-year students, and 28% did so for seniors.
"Our findings provide compelling evidence that colleges and universities can improve the undergraduate experience, and that positive
change is not limited to certain institutional types," according to Alexander C. McCormick, director of NSSE and associate professor of education at Indiana University. "These are not just isolated upticks, they are patterns of steady improvement over a period of several years."
Access the report by clicking here.
A summary of DePauw's results can be found here.
DePauw University is rated among the nation's top 50 liberal arts colleges "that combine outstanding economic value with exceptional education," according to the December 2009 issue of Kiplinger's Personal Finance.
DePauw also ranks among the top 10 baccalaureate institutions in the nation for the total number of students who studied abroad in 2006-07, according to the 2008 Open Doors report.
For the fourth consecutive year, DePauw University is listed among the "Top Producers of Fulbright Awards for U.S. Students" in a chart published last month in the Chronicle of Higher Education.
Prospective students are invited to visit DePauw's Office of Admission online.
Back