TV Station Airs Highlights of DePauw's Playoff-Clinching Victory
November 7, 2009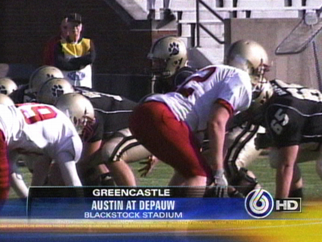 November 7, 2009, Greencastle, Ind. — With today's 34-23 football victory over Austin College, DePauw University "improves to 7-1 and in the process clinch their first-ever playoff berth," noted WRTV Sports Director Dave Furst as he narrated highlights on the Indianapolis ABC affiliate. "Congratulations to DePauw," he added.
The piece noted that DePauw's final regular season game is the annual Monon Bell Classic against Wabash College next Saturday, November 14.
See the highlights here:

[Download Video: "DePauw-Austin Highlights from WRTV" - 7933kb].
A brief summary of the DePauw-Austin game can be found here. For a more comprehensive look at today's contest, visit the football team's Web page.
The 116th Monon Bell Classic will be played at 1 p.m. Saturday at
Blackstock Stadium. DePauw's allotment of tickets for the annual rivalry game with Wabash College are sold out, but the game can be seen nationally on HDNet and heard on DePauw's student radio station, WGRE (91.5 FM or via this link).

[Download Video: "Ballad of the Monon Bell - 2007 Version" - 10,419kb]

[Download Audio: "Ballad of the Monon Bell - Stereo" - 2514kb]
A pre-order discount is available until Friday for the limited edition DVD of the 2009 battle for the Monon Bell. Discs of the 2001-08 games remain available in limited quantities. Details and an online order form can be found here.
Source: WRTV (ABC)/Indianapolis
Back