Nonfiction Writer Scott Raab to Discuss His Work Monday
November 11, 2009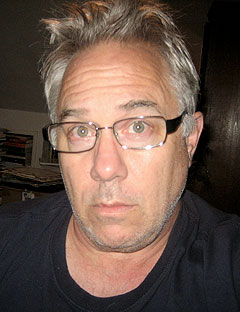 November 11, 2009, Greencastle, Ind. — Nonfiction writer Scott Raab will come to DePauw University on Monday, November 16, to discuss his work as a profile writer for GQ, Esquire and other publications, and will read from his book, True Hollywood Stories. The event, presented by DePauw's James and Marilou Kelly Writers Series, will begin at 7:30 p.m. in the auditorium of the Richard E. Peeler Art Center. The program is presented free of charge and is open to all.
Raab has written profiles of everyone from Dennis Kucinich to Mickey Rourke to Newark Mayor Corey Booker. Most recently, he offered an Esquire report and meditation on the trial of John Denjanjuk for Nazi war crimes in Germany, "The Last Nazi."
"Scott is a great reader, a terrific writer and is more than happy to take time for questions-- about his craft, about his work with celebrities, or his thoughts/findings on the Demjanjuk trial," says Tom Chiarella, visiting professor of creative writing at DePauw University and fiction editor for Esquire. "Widely considered the best magazine writer in the country, Scott invents and reimagines the journalistic form from month-to-month, moving deftly from subject-to-subject, from politics to

New Jersey diners, he has blogged (well) about fatherhood, Obama and the Cleveland Indians. In person, he is a paradoxical tangle: caustic, caring and a thorough pro. He covers Hollywood, without caring about the least little bit about celebrity culture. I believe he cares about langauge as much as any writer I've ever met. And when he turns his eye on a subject like Demjanjuk, his writing is expansive, illuminating and wildly readable."
Learn more about the Kelly Writers Series by clicking here.
Back