DePauw and Wabash Presidents Issue Joint Letter in Advance of Saturday's Monon Matchup
November 11, 2009
Also: Monon Bell Home Page; Pre-Order Your 2009 Monon Bell DVD
November 11, 2009, Greencastle, Ind. — For a second consecutive year, the presidents of DePauw University and Wabash College -- Brian W. Casey and Patrick White -- are issuing a joint letter in advance of the annual football game between the two institutions. The 116th Monon Bell Classic will take place this Saturday, November 14, at DePauw's Blackstock Stadium. Tickets are sold out but the game can be seen across the nation on HDNet. (photo: Presidents Casey and White being interviewed at halftime of last year's game)
"For three hours on Saturday, student-athletes from the two schools will play hard to win the coveted symbol of this rivalry," the presidents write. "But today and throughout the year, we can all celebrate the fact that DePauw and Wabash are two great schools that share this tremendous tradition alongside a tremendous mutual respect and admiration."
The letter -- which is being published this week in both schools' student newspapers, The DePauw and The Bachelor -- notes, "Before the game the Tiger Pep Band and Wabash's Sphinx Club will meet at mid-field to play the songs of both schools as well as the national anthem. At the game the two of us, as presidents of our institutions, will greet one another and the players in the spirit of sportsmanship and friendship, as DePauw and Wabash students wrap up a week of competitive philanthropic efforts."
Drs. Casey and White state, "We are sending this message in the hopes that you will join us in celebrating the many things that DePauw and Wabash share and the great tradition that is entrusted to us. Please respect and take care of one another; by doing so, you are building upon the foundations of a rivalry
that has engaged and thrilled generations of our students."
Access the complete message, which is being published in the student newspapers at both colleges this week, here.
Voted Indiana's "best sports rivalry" by visitors to ESPN.com, the Monon Bell Classic is one of the nation's longest and greatest football rivalries.

[Download Video: "Ballad of the Monon Bell - 2007 Version" - 10,419kb]

[Download Audio: "Ballad of the Monon Bell - Stereo" - 2514kb]
Kickoff for the 116th football meeting between DePauw and Wabash College and 78th for possession of the Monon Bell is set for just after 1 p.m. on November 14 at DePauw's Blackstock Stadium. Gates open at 11:30 a.m. and the Blackstock parking lot will open to the public at 9 a.m. There will be a $5 fee for parking in the Blackstock lot. Complete parking and tailgating information is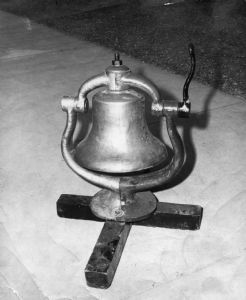 available here.
This year's game will again be telecast across America on the high definition network HDNet with telecast parties arranged by DePauw and Wabash alumni in over 60 cities.

Pre-orders are being accepted for the limited edition DVD of the 116th Monon Bell Classic, and limited copies of the 2001-08 games remain available. The discs are professionally replicated and contain bonus materials. Details and an online order form can be found here.

The all-time series is tied 53-53-9, while DePauw leads in games played for the Monon Bell by a 37-34-6 count after last year's 36-14 win in Crawfordsville. Access DePauw's Monon Bell Web page here.
A complete roster of "Monon Memories" -- 115 video highlights of all the past games -- can be found here.

[Download Video: "2008 Monon Memory" - 4105kb]
Back