Two Tigers Face Their HS Coach in Saturday's Monon Bell Game
November 12, 2009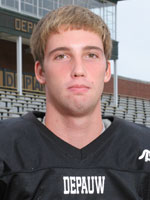 November 12, 2009, Greencastle, Ind. — "Nathan Evans won't let the Wabash/DePauw rivalry strain his bond with his former high school coach. Their friendship is too important," writes John Groth in today's Paper of Montgomery County. "DePauw's junior tight end still stays in contact with former North Montgomery High School football and current Wabash College assistant football coach Jake Gilbert. They call each other and trade texts nearly every week. They don't let the in-state rivalry get in the way. They haven't lost that connection. Not even during the week before what could be the biggest Monon Bell game this decade."
"Coming from Crawfordsville, it makes the game that much more fun and with me being close to coach Gilbert," Evans tells the newspaper. "We've talked almost every week. Playing in a game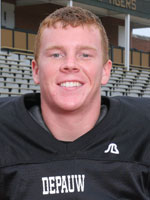 against him is new, especially a game of this caliber."
The story points out that DePauw junior Cole Brady (pictured at right) also played under Gilbert in high school. "Gilbert coached North Montgomery's football team from 2000-06. He was the one who actually encouraged his two former players -- Evans and Brady -- to attend DePauw. Gilbert thought they'd fit well there and have a chance to succeed. So far, they have -- with flying colors. Evans and Brady are receiving playing time and they've helped the Tigers to their first NCAA Division III playoff berth in school history under first-year interim head coach Robby Long," writes Groth, a 2004 graduate of DePauw.
Brady, a wide receiver who also plays on special teams, says, "It's really exciting for me. Our class set a goal to win all the Bells as freshmen, so this is just another year to win and achieve that goal. I think Wabash is better than ever, so we'll have to play really well."
You'll find the full story, "Bond stronger than rivalry," at the Paper's Web site.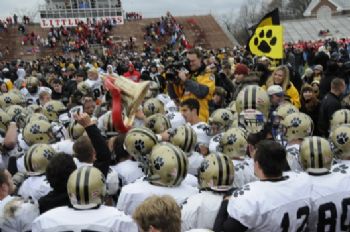 The 116th Monon Bell Classic will take place at 1 p.m. this Saturday, November 14, at DePauw's Blackstock Stadium. Tickets are sold out but the game can be seen across the nation on HDNet. Alumni telecast parties have been arranged by DePauw and Wabash alumni in 65 cities.
Gates open at 11:30 a.m. and the Blackstock parking lot will open to the public at 9 a.m. There will be a $5 fee for parking in the Blackstock lot. Complete parking and tailgating information is available here.
The presidents of DePauw and Wabash have issued a joint letter to fans of the rivalry.

Pre-orders are being accepted for the limited edition DVD of the 116th Monon Bell Classic, and limited copies of the 2001-08 games remain available. The discs are professionally replicated and contain bonus materials. Details and an online order form can be found here.

The all-time series is tied 53-53-9, while DePauw leads in games played for the Monon Bell by a 37-34-6 count after last year's 36-14 win in Crawfordsville. Access DePauw's Monon Bell Web page here.
A complete roster of "Monon Memories" -- 115 video highlights of all the past games -- can be found here.
Back