Barbara Kingsolver '77 "Evangelizes for Literature"
November 13, 2009
November 13, 2009, Greencastle, Ind. — "Barbara Kingsolver would like to thank you, Miami," begins a Miami Herald account of the 1977 DePauw University graduate's visit to that city. "As part of what she calls 'evangelizing for literature,' the author of the beloved novels The Bean Trees and The Poisonwood Bible told a full house Monday night at Miami Book Fair International that 'the real beating heart of democracy is the place people love books. I salute you for your love of reading.'" (photo by Annie Griiffiths Belt)
The story by Connie Ogle continues, "She was right to pay tribute: The silent, rapt crowd hung onto every word as she read of howler monkeys, the death of the Mayan civilization and the vibrancy of Mexico City, all part of her latest novel, The Lacuna (an English word, not a Spanish one, she cautioned)."
Read more at the newspaper's Web site.
In a New York Times review of Kingsolver's new book, which was released this month, Liesl Schillinger opined,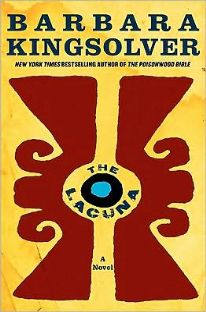 "The Lacuna can be enjoyed sheerly for the music of its passages on nature, archaeology, food and friendship; or for its portraits of real and invented people; or for its harmonious choir of voices. But the fuller value of Kingsolver's novel lies in its call to conscience and connection. She has mined [the book's main character, Harrison William Shepherd's] richly imagined history to create a tableau vivant of epochs and people that time has transformed almost past recognition. Yet it's a tableau vivant whose story line resonates in the present day, albeit with different players. Through Shepherd's resurrected notebooks, Kingsolver gives voice to truths whose teller could express them only in silence."
Barbara Kingsolver's books have been translated into nineteen languages and enjoy a devoted worldwide readership. Her many awards include the National Humanities Medal. She is also the creator of the Bellwether Prize for "literature of social change."
Kingsolver was a guest on National Public Radio's Diane Rehm Show on November 5, and was profiled by NPR four days later.
Back