Spud Dick '10
November 13, 2009
DePauw started a freshman quarterback in the second game of the 2006 football season. He was undersized at 5'10", inexperienced at the college level and perhaps the most exciting thing about him was his name: Spud.
If you haven't heard senior Spud Dick's story before, the answers to your questions are yes and no, respectively. Yes – the name comes from short-lived Budweiser mascot Spuds MacKenzie. And no – his real name is Gerry, which he shares with his father and grandfather. (As it turns out, Spuds wasn't the dog's real name, either.) Days after his birth, Dick's great uncle suggested the nickname as a way to distinguish him from the elder Gerrys. The name stuck.
"My mom called me Gerry until I was 4 or five so I knew what my real name was," Dick says.
Now a four-year starter, the quarterback's name is his least compelling story. Dick holds or shares nearly every record for his position at DePauw. In regards to the record that matters the most to many players and fans – that of wins against rival Wabash College in the Monon Bell Classic – Dick has two so far. The 116th contest between the schools on Saturday, Nov. 14 gives Dick a shot at a third.
"I was fortunate to start the Monon Bell game as a freshman, but I don't know I really appreciated until my sophomore year how much it means to everybody in the community, the alumni and the students here," Dick says. "We have coaches who played in front of 100,000 people who say that there's nothing quite like Monon because it's such a fierce rivalry."
"The fun thing about this week and Monon is it's the one week during the year you feel like a Division-I quarterback," Dick adds. "You do four or five interviews a day leading up to the game and the game is televised. This is the one week when you do feel like you're part of the big time."
Most people know of Spud Dick the quarterback, but he says the balance being a student-athlete at DePauw is heavily weighted on the other side of his life.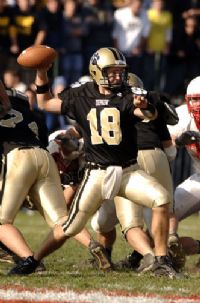 "I'm more of a student at this level," says Dick, an economics major and Management Fellow. "The academic course load that we have here mandates that you spend a majority of your time on school."
When he was looking for a college to attend, Dick considered DePauw's emphasis on academics to be an advantage. Football was definitely part of his decision – just not all of it.
"The more I visited the DePauw campus, the more I felt that it was the place for me," Dick says. "The rigorousness of the academics, the atmosphere on campus, Management Fellows and the football program – the combination of those things was something that none of the other schools I looked at came close to matching."
"I took one economics class in high school, but I only developed a real interest for it once I got here," Dick says. "I've taken more courses than what I've needed for the major. I've looked at classes just to fill credit hours and I find myself going back to economics."
After DePauw, Dick hopes to enter the business world. He spent the 2009 spring semester, in a Management Fellows internship at RICS Software in Indianapolis, founded by DePauw graduate David B. Becker '75.
The choice to participate in intercollegiate athletics, especially at the position he plays, means that Dick doesn't get much free time. On top of studying for exams, writing papers and practicing with the team, he estimates he spends six or seven hours a week reviewing film.
"When some students get a break, they'll go play video games or hang out with their friends," Dick says. "I pop open my laptop and watch game film."
The team's 200-page playbook grows as well, adding dozens of plays as the season progresses.
"It really forces you to learn how to manage your time," says Dick.
Dick gives credit to DePauw Offensive Coordinator Dustin Ward, who played quarterback at the University of Illinois, for much of the success he's had.
"When I came in as a freshman we had a great running back in Jeremiah Marks," Dick says. "We were a run-heavy offense, and that took a lot of pressure off of me. ... [Ward] has turned it into more of a mental game. I've had to learn the offense inside and out, and that's allowed me be as successful as I've been."
Asked what he's most proud of from his time at DePauw, Dick has a lot of possibilities to choose from. He doesn't name a record he holds or a game he's won. His answer reaffirms what college athletics is all about.
"I've been able to maintain a high GPA – 3.5 or above – and we're going to the playoffs for the first time ever in our history," Dick says. "Being able to perform at a high level both on and off the field is my proudest accomplishment at DePauw. Definitely."
Back