TV Stations Preview the 116th Battle for the Monon Bell
November 12, 2009
Also: Monon Bell Home Page; Order Your 2009 Monon Bell DVD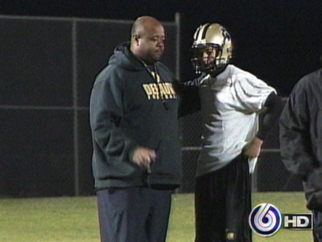 November 12, 2009, Greencastle, Ind. — Saturday's football game between DePauw University and Wabash College for the coveted Monon Bell is "for more than that this time around," WRTV sports director Dave Furst told his audience on the Indianapolis ABC affiliate tonight. Furst introduced a report by Brad Brown on how the Tigers have already earned its first-ever trip to the NCAA playoffs, while Wabash needs a victory to get into the tournament.
The piece shows footage of the Tigers' practice this afternoon and includes comments from senior quarterback Spud Dick and interim head coach Robby Long.
See a clip here:

[Download Video: "WRTV Bell Preview" - 4322kb];

[Download Video: "Tease for Monon Story" - 1722kb].
"While the Little Giants have gone to the
playoffs two years in a row, DePauw's won the last two Bell games," Larry Hawley noted in his 10 p.m. sports report on FOX outlet WXIN. It, too, showed the Tigers preparing for their regular season finale with Wabash, and featured interviews with Dick and sophomore running back Jon Ellis.
"In our minds this is a playoff game, this is a must-win game," Ellis tells the station.
"I think both schools expect their team to win," Dick, who has rewritten the DePauw record book, adds.
See the video here:

[Download Video: "FOX 59 Visits Tiger Practice" - 6835kb].
On its website, the station offers a piece on DePauw assistant coach James Mungro, a member of the Indianapolis Colts 2006 Super Bowl team. Also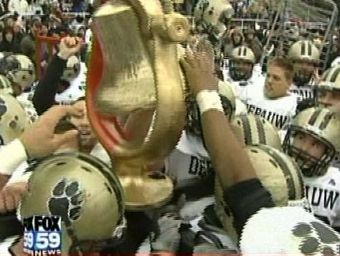 available is a Monon Bell blog, which contains several archived stories from past Monon Bells, Hawley's blog, and a preview from Wabash.
The 116th Monon Bell Classic kicks off at 1:07 p.m. Saturday at DePauw's Blackstock Stadium. Tickets are sold out but the game can be seen across the nation on HDNet. Alumni telecast parties have been arranged by DePauw and Wabash alumni in 65 cities.
Gates open at 11:30 a.m. and the Blackstock parking lot will open to the public at 9 a.m. There will be a $5 fee for parking in the Blackstock lot. Complete parking and tailgating information is available here.
The presidents of DePauw and Wabash have issued a joint letter to fans of the rivalry.
Pre-orders are being accepted for the limited edition DVD of the 116th Monon Bell Classic, and limited copies of the 2001-08 games remain available. The discs are professionally replicated and contain bonus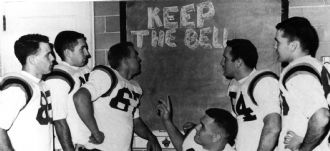 materials. Details and an online order form can be found here.

The all-time series is tied 53-53-9, while DePauw leads in games played for the Monon Bell by a 37-34-6 count after last year's 36-14 win in Crawfordsville. Access DePauw's Monon Bell Web page here.
A complete roster of "Monon Memories" -- 115 video highlights of all the past games -- can be found here.
Back