"Sense of Urgency" for Both Teams as Countdown Continues to Today's Monon Bell Game
November 14, 2009
Also: Monon Bell Home Page; Order Your 2009 Monon Bell DVD

[Download Video: "Ballad of the Monon Bell - 2007 Version" - 10,419kb]

[Download Audio: "Ballad of the Monon Bell - Stereo" - 2514kb]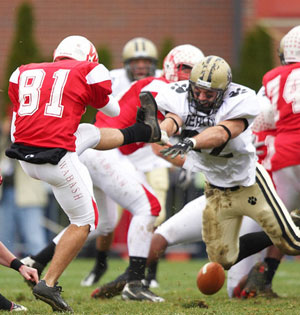 November 14, 2009, Greencastle, Ind. — "For the first time, DePauw has qualified for the NCAA Division III football tournament," begins Michael Pointer's game day story in this morning's Indianapolis Star. "If anyone thinks that diminishes the Tigers' sense of urgency for today's tiebreaking Monon Bell game against Wabash, they don't know much about one of college football's most storied rivalries."

[Download Video: "1890 Monon Memory" - 4409kb]
DePauw (7-1) received an automatic playoff qualification from the Southern Collegiate Athletic Conference. With a victory today, Wabash College (8-1) can potentially secure a playoff bid of its own.

[Download Video: "2008 Monon Memory" - 4105kb]
For the Tigers, according to senior quarterback Spud Dick, "This game means so much to so many people. There's no way a playoff game (next week) is going to change that."
The article notes that the all-time series is tied at 53-53-9 headed into the 116th Monon Bell Classic, which kicks off at 1:07 p.m. at Blackstock Stadium. DePauw University leads in games played since the Monon Bell was introduced in 1932 as the winners' prize by a 37-34-6 count. More than 8,000 fans will attend today's sold out renewal of the rivalry.

[Download Video: "2007 Monon Memory" - 7808kb]
Pointer notes that Robby Long, interim head football coach at DePauw, "was a starter on the University of Illinois team that won the Big Ten title in 2001 and played in the Sugar Bowl. But he said he has found nothing that matches the passion of the Monon Bell Game because it's such a focal point not just this week, but the entire season."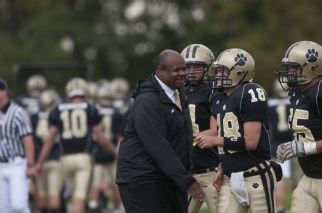 "We had rivalries, we had trophy games, but nothing like this," Long tells the Star. "It means so much to the teams, the alums and the institutions. You just don't have this setup at the Division I level."

[Download Video: "1955 Monon Memory" - 6739kb]
Read the complete article, "No denying importance of this rivalry," at IndyStar.com.
Today's edition of the Paper of Montgomery County includes a special, six-page Monon Bell section. A PDF can be accessed at the publication's Web site.
[Download Video: "1960 Monon Memory" - 3521kb]
Another story, in Illinois' Niles Daily Star, profiles Tiger players Nick Etzcorn, Paul DePoy and Ben Brandstatter. DePoy's father, Roger, tells that paper, "Paul has been fortunate to be able to combine a great education with the chance to play college football at a special

place. The level of competition is great and the annual Monon Bell game is one of the best rivalries in the country."
Tickets are sold out for today's game, but all of the action can be seen across the nation on HDNet. Alumni telecast parties have been arranged by DePauw and Wabash alumni in 65 cities.
Gates open at 11:30 a.m. and the Blackstock parking lot will open to the public at 9 a.m. There will be a $5 fee for parking in the Blackstock lot. Complete parking and tailgating information is available here.
[Download Video: "1981 Monon Memory" - 5633kb]
The presidents of DePauw and Wabash have issued a joint letter to fans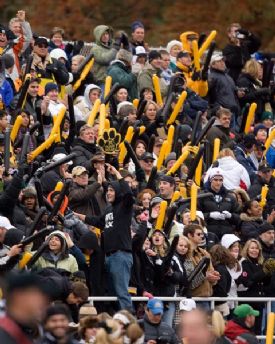 of the rivalry.
Indianapolis television stations offered game previews this week.

[Download Video: "WRTV Bell Preview" - 4322kb];

[Download Video: "Tease for Monon Story" - 1722kb]
Pre-orders are being accepted for the limited edition DVD of the 116th Monon Bell Classic, and limited copies of the 2001-08 games remain available. The discs are professionally replicated and contain bonus materials. Details and an online order form can be found here.

The all-time series is tied 53-53-9, while DePauw leads in games played for the Monon Bell by a 37-34-6 count after last year's 36-14 win in Crawfordsville. Access DePauw's Monon Bell Web page here.
A complete roster of "Monon Memories" -- 115 video highlights of all the past games -- can be found here.
Back