12th-ranked Tigers Finish Fourth at Great Lakes Championships; Reich Qualifies for NCAA Championships
November 14, 2009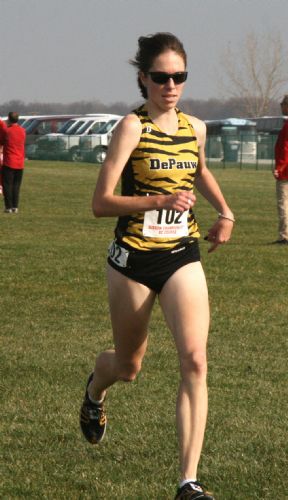 November 14, 2009, Greencastle, Ind. — Paced by Lauren Reich's second-place finish, 12th-ranked DePauw totaled 150 points and placed fourth at the NCAA Great Lakes Women's Cross Country Championships.
Calvin won the meet with 50 points, followed by Oberlin with 120 and Case Western Reserve with 130.
Reich (photo courtesy Rose-Hulman) covered the 6K course in 21:28.50 to trail only Denison's Katie Navarre who won the meet in 21:28.50. Ellen Mail finished 23rd in 23:13.71 followed by Jess Macy in 24th in 23:15.66.
Claire Hollis placed 29th in 23:24.51 with Kelsey Moore in 76th in 24:32.85. Rounding out DePauw's runners were Melissa Buckley in 89th place in 24:49.15 and Julie Southworth in 110th in 25:16.10.
Reich qualified automatically for next Saturday's NCAA Division III Championships, while the team awaits word on a possible at-large berth.
Follow DePauw Athletics on Twitter | Become a Fan of DePauw Athletics on Facebook
 FinishTiming - Contractor License                           HY-TEK's Meet Manager
              NCAA Div III Great Lakes XC Championships - 11/14/2009              
                     Timing & Results by www.Finishtiming.com                     
                   Lavernes Gibson Hosted by Rose Hulman/Depauw                   
                               Last Completed Event                               
 
Event 1  Women 6k Run CC
==================================================================================
    Name                    Year School                Avg Mile     Finals  Points
==================================================================================
  1  #89 Navarre, Katie       JR Denison                 5:44.2   21:23.09    1   
  2 #102 Reich, Lauren        SR DePauw                  5:45.6   21:28.50    2   
  3 #212 Johnson, Joanna      JR Oberlin                 5:48.2   21:38.04    3   
  4  #74 Simpson, Elaine      SR Case Western            5:55.6   22:05.68    4   
  5  #53 Bergstrom, Lauren    SR Calvin                  5:58.6   22:16.70    5   
  6 #227 Steinbrunner, Aliso  FR Ohio Northern           5:58.8   22:17.71    6   
  7 #172 McLaughlin, Jillian  SR Kalamazoo               5:59.9   22:21.64    7   
  8  #56 Hale, Jesi           SR Calvin                  6:01.3   22:26.99    8   
  9 #118 Waterman, Heather    JR Franklin                6:04.6   22:39.33    9   
 10  #59 Koster, Jessica      SR Calvin                  6:04.8   22:39.79   10   
 11 #297 Pfeifer, Mary        SO Wittenberg              6:05.0   22:40.75   11   
 12  #73 Jeroski, Justine     JR Case Western            6:06.5   22:46.09   12   
 13  #60 Smit, Elizabeth      SR Calvin                  6:06.5   22:46.29   13   
 14 #208 Stalter, Heather     SR Mount Union             6:06.6   22:46.47        
 15  #55 Dugan, Sarah         SR Calvin                  6:07.9   22:51.44   14   
 16  #42 Hlavin, D'Arcy       SR Baldwin-Wallace         6:08.4   22:53.43   15   
 17  #58 Hoekstra, Jodi       SO Calvin                  6:09.0   22:55.44   16   
 18  #54 Braymer, Gretchen    JR Calvin                  6:09.6   22:57.71   17   
 19 #216 Shaw, Clara          SR Oberlin                 6:10.1   22:59.70   18   
 20  #38 Chinn, Kimberly      JR Baldwin-Wallace         6:10.6   23:01.57   19   
 21 #284 Cekada, Annie        FR Wilmington (Ohio)       6:11.9   23:06.32   20   
 22 #217 Terashima, Sara      FR Oberlin                 6:12.8   23:09.72   21   
 23 #100 Mail, Ellen          SR DePauw                  6:13.9   23:13.71   22   
 24  #99 Macy, Jess           FR DePauw                  6:14.4   23:15.66   23   
 25 #146 Fischer, Emily       JR Hope                    6:14.6   23:16.56   24   
 26 #293 Dubuc, Darcy         SO Wittenberg              6:15.5   23:19.65   25   
 27 #295 Henry, Anna          SO Wittenberg              6:15.9   23:21.38   26   
 28 #186 Bremer, Jessica      JR Manchester              6:16.3   23:22.93   27   
 29  #98 Hollis, Claire       SO DePauw                  6:16.8   23:24.51   28   
 30 #215 Revells, Cordelia    SR Oberlin                 6:18.3   23:30.11   29   
 31 #152 Nelson, Kate         SO Hope                    6:18.4   23:30.48   30   
 32  #69 Cabrera, Natalia     SO Case Western            6:18.6   23:31.54   31   
 33 #238 Zimmerly, Kat        JR Ohio Wesleyan           6:18.9   23:32.57   32   
 34 #180 Metzger, Lauren      JR Kenyon                  6:19.3   23:34.10   33   
 35 #246 Pautsch, Andie       JR Otterbein               6:19.9   23:36.15   34   
 36  #39 Coyne, Karin         JR Baldwin-Wallace         6:20.7   23:39.07   35   
 37  #72 Heffernan, Colleen   SR Case Western            6:20.8   23:39.47   36   
 38 #150 Mattarella, Taylor   FR Hope                    6:21.0   23:40.29   37   
 39 #155 Aberl, Ashley        FR John Carroll            6:21.2   23:41.24   38   
 40  #28 Lemcke, Kellee       JR Alma                    6:21.7   23:42.83   39   
 41  #46 Rospert, Sarah       FR Baldwin-Wallace         6:21.8   23:43.21   40   
 42   #2 Fowler, Alicia       FR Adrian                  6:22.5   23:45.99   41   
 43  #16 Nichols, Erika       SR Albion                  6:23.7   23:50.39   42   
 44 #190 Miller, Megan        JR Manchester              6:23.9   23:51.21   43   
 45 #305 O'Neil, Colleen      FR Wooster                 6:24.0   23:51.60   44   
 46 #148 Lufkin, Kelly        SO Hope                    6:24.6   23:53.63   45   
 47 #157 Doherty, Tricia      SR John Carroll            6:24.7   23:54.23   46   
 48  #70 Fischione, Andrea    JR Case Western            6:25.8   23:58.34   47   
 49  #44 Kovach, Krysten      JR Baldwin-Wallace         6:26.5   24:00.78   48   
 50 #209 Beebe, Julia         JR Oberlin                 6:27.4   24:04.06   49   
 51 #256 Rogers, Melissa      SR Rose-Hulman             6:27.5   24:04.38   50   
 52 #149 Martin, Katie        FR Hope                    6:28.3   24:07.44   51   
 53 #187 Cors, Meredith       FR Manchester              6:28.3   24:07.52   52   
 54  #47 White, Katherine     JR Baldwin-Wallace         6:28.4   24:08.02   53   
 55  #71 Hederstrom, Kristen  JR Case Western            6:28.6   24:08.77   54   
 56 #235 Shinn, Sarah         JR Ohio Wesleyan           6:29.5   24:12.05   55   
 57 #306 Plews-Ogan, Erin     FR Wooster                 6:29.5   24:12.10   56   
 58 #145 Bird, Claire         JR Hope                    6:29.7   24:12.86   57   
 59   #3 Hamel, Logan         FR Adrian                  6:30.4   24:15.44   58   
 60   #9 Strong, Heather      FR Adrian                  6:30.8   24:16.91   59   
 61 #260 Kenney, Julia        FR St. Mary's (Ind.)       6:31.2   24:18.20   60   
 62 #154 Sikma, Karlyn        SO Hope                    6:31.5   24:19.29   61   
 63 #301 Appleton, Sarah      SO Wooster                 6:32.3   24:22.61   62   
 64 #258 Almond, Joanne       SO St. Mary's (Ind.)       6:33.0   24:25.12   63   
 65 #230 Lehman, Jane         FR Ohio Wesleyan           6:33.1   24:25.42   64   
 66 #195 Emmert, Jennifer     SO Marietta                6:33.4   24:26.43   65   
 67 #182 Smith, Gaither       JR Kenyon                  6:33.5   24:26.94   66   
 68 #276 Hutchison, Natalie   FR Trine                   6:33.6   24:27.34   67   
 69 #248 Reese, Niki          SR Otterbein               6:34.2   24:29.60   68   
 70 #244 Hutchinson, Sarah    SO Otterbein               6:34.4   24:30.30   69   
 71 #294 Goodbarn, Biz        FR Wittenberg              6:34.4   24:30.39   70   
 72 #164 Tillmaand, Emily     SR John Carroll            6:34.4   24:30.41   71   
 73 #183 Alva, Tiffany        SR Manchester              6:34.8   24:31.61   72   
 74  #30 Bordner, Ashley      FR Anderson (Ind.)         6:34.9   24:32.05   73   
 75 #222 Davis, Amy           JR Ohio Northern           6:35.0   24:32.51   74   
 76 #101 Moore, Kelsey        SO DePauw                  6:35.1   24:32.85   75   
 77 #126 Moreland, Rachel     SO Hanover                 6:35.3   24:33.65   76   
 78  #35 Moffitt, Erica       SR Anderson (Ind.)         6:35.5   24:34.55   77   
 79 #124 Lucas, Sara          SO Hanover                 6:35.8   24:35.55   78   
 80 #290 Stief, Kelsey        JR Wilmington (Ohio)       6:36.0   24:36.21   79   
 81 #218 Witcher, Kristina    FR Oberlin                 6:36.5   24:38.10   80   
 82  #19 Weaver, Amanda       FR Albion                  6:36.7   24:38.72   81   
 83 #223 DeAngelis, Katie     SO Ohio Northern           6:37.1   24:40.30   82   
 84 #250 Webster, Shaylyn     JR Otterbein               6:37.2   24:40.63   83   
 85 #253 Clauser, Creasy      FR Rose-Hulman             6:37.7   24:42.67   84   
 86 #242 Elliot, Nicole       SO Otterbein               6:38.5   24:45.62   85   
 87 #220 Bloom, Mallory       SO Ohio Northern           6:38.9   24:47.03   86   
 88 #158 Grieve, Kelly        JR John Carroll            6:39.2   24:47.98   87   
 89  #96 Buckley, Melissa     SR DePauw                  6:39.5   24:49.15   88   
 90 #298 Stamon, Amy          FR Wittenberg              6:39.7   24:50.03   89   
 91 #221 Casanova, Kelly      SO Ohio Northern           6:40.0   24:51.12   90   
 92 #110 Alejo, Carmen        JR Franklin                6:40.0   24:51.30   91   
 93 #181 O'Connor, Morgan     SO Kenyon                  6:40.3   24:52.19   92   
 94 #226 Smith, Rachel        SR Ohio Northern           6:40.7   24:53.70   93   
 95 #160 Oles, Christina      FR John Carroll            6:41.1   24:55.07   94   
 96 #111 Brown, Kristi        SR Franklin                6:41.6   24:57.23   95   
 97 #308 Yarmosky, Jessica    JR Wooster                 6:41.7   24:57.54   96   
 98  #75 Spahn, Cindy         JR Case Western            6:42.4   25:00.00   97   
 99 #210 Cole, Nina           SO Oberlin                 6:43.2   25:03.03   98   
100  #26 Helm, Julie          FR Alma                    6:43.6   25:04.48   99   
101 #174 Sly, Kathleen        SO Kalamazoo               6:44.0   25:06.15  100   
102  #90 Pence, Kelsey        SR Denison                 6:44.7   25:08.64  101   
103  #25 Harris, Shelby       SO Alma                    6:44.8   25:08.92  102   
104 #115 Hatch, Holly         SO Franklin                6:45.1   25:10.07  103   
105   #8 Smith, Rachel        FR Adrian                  6:45.3   25:11.04  104   
106 #262 McClowry, Megan      SR St. Mary's (Ind.)       6:45.5   25:11.57  105   
107 #168 Conner, Ellen        FR Kalamazoo               6:45.7   25:12.44  106   
108   #1 Alexander, Victoria  SO Adrian                  6:46.0   25:13.48  107   
109 #113 Egold, Shannon       SO Franklin                6:46.4   25:15.17  108   
110 #103 Southworth, Julie    SR DePauw                  6:46.7   25:16.10  109   
111 #176 Bailey, Liz          SO Kenyon                  6:46.9   25:16.73  110   
112 #302 Capehart, Suzanne    JR Wooster                 6:47.3   25:18.30  111   
113 #229 Everhart, Claire     SR Ohio Wesleyan           6:47.4   25:18.66  112   
114 #267 Wieczorek, Sam       JR St. Mary's (Ind.)       6:47.6   25:19.58  113   
115 #175 Abing, Haley         FR Kenyon                  6:47.7   25:19.99  114   
116 #307 Shaul, Meredith      SO Wooster                 6:47.7   25:20.01  115   
117   #4 Murphy, Alivia       FR Adrian                  6:48.4   25:22.34  116   
118  #13 McLaughlin, Emily    JR Albion                  6:48.6   25:23.34  117   
119  #43 Kotesovec, Julie     SO Baldwin-Wallace         6:48.7   25:23.66  118   
120 #224 Dennen, Ashton       FR Ohio Northern           6:48.8   25:23.78  119   
121 #236 Winant, Hannah       SR Ohio Wesleyan           6:48.9   25:24.28  120   
122 #259 Baker, Emma          FR St. Mary's (Ind.)       6:49.1   25:25.26  121   
123 #125 McLetchie, Shawna    JR Hanover                 6:49.3   25:25.73  122   
124 #163 Testa, Shannon       FR John Carroll            6:49.3   25:25.89  123   
125 #287 Foote, Colleen       SO Wilmington (Ohio)       6:49.4   25:26.28  124   
126  #32 Clevenger, Courtney  FR Anderson (Ind.)         6:49.5   25:26.41  125   
127 #200 Williams, Stephanie  SR Marietta                6:49.6   25:26.88  126   
128  #27 Johnson, Miriam      SR Alma                    6:49.9   25:28.10  127   
129 #243 Ernest, Ali          FR Otterbein               6:50.0   25:28.57  128   
130 #286 Foote, Anna          SO Wilmington (Ohio)       6:50.2   25:29.31  129   
131 #289 Michel, Karlee       FR Wilmington (Ohio)       6:50.9   25:31.70  130   
132  #88 Mutafova, Amelia     JR Denison                 6:51.4   25:33.74  131   
133 #189 Kopla, Ashley        FR Manchester              6:52.2   25:36.60  132   
134 #191 Pea, Katherine       JR Manchester              6:52.6   25:38.19  133   
135 #292 Crosby, Emma         SO Wittenberg              6:52.8   25:39.04  134   
136  #84 Switzer, Kaitlin     JR Defiance                6:53.8   25:42.48  135   
137  #92 Putnam, Ashley       JR Denison                 6:54.5   25:45.09  136   
138 #299 Swoyer, Mary         FR Wittenberg              6:54.7   25:45.94  137   
139 #197 McDonald, Shannon    SR Marietta                6:54.9   25:46.77  138   
140  #33 DeLong, Candace      SO Anderson (Ind.)         6:55.4   25:48.50  139   
141 #304 Fisher, Chelsea      JR Wooster                 6:55.5   25:49.10  140   
142 #159 Lutz, Megan          SO John Carroll            6:56.1   25:51.09  141   
143  #11 Broekema, Katie      SO Albion                  6:56.1   25:51.30  142   
144 #288 Gibbons, Brittany    FR Wilmington (Ohio)       6:56.3   25:52.06  143   
145  #93 Rotramel, Julie      JR Denison                 6:56.6   25:53.04  144   
146 #237 Wright, Madeleine    FR Ohio Wesleyan           6:57.1   25:54.82  145   
147 #257 Ross, Katie          FR Rose-Hulman             6:57.2   25:55.33  146   
148 #128 Sells, Angie         SR Hanover                 6:57.2   25:55.36  147   
149 #117 Spellman, Katie      FR Franklin                6:57.9   25:57.76  148   
150 #207 Sherwood, Lesley     SO Mount Union             6:58.0   25:58.29        
151 #132 Custer, Bobbi        FR Heidelberg              6:58.2   25:59.16  149   
152 #255 Quigg, Katherine     JR Rose-Hulman             6:58.9   26:01.64  150   
153 #247 Reese, Bekah         FR Otterbein               6:59.9   26:05.39  151   
154 #179 Matsuno, Keiko       JR Kenyon                  7:00.2   26:06.42  152   
155  #21 Campfield, Jennifer  FR Alma                    7:02.9   26:16.46  153   
156 #194 Cline, Mehgan        JR Marietta                7:02.9   26:16.56  154   
157  #66 Trick, Sarah         SO Capital                 7:03.5   26:18.86  155   
158 #198 Tillmaand, Lydia     FR Marietta                7:03.9   26:20.20  156   
159 #269 Heines, Betsy        SO Transylvania            7:04.5   26:22.34        
160  #87 McGinty, Ann         FR Denison                 7:04.6   26:22.86  157   
161 #265 Rodriguez, Arianne   SO St. Mary's (Ind.)       7:04.8   26:23.68  158   
162 #275 Anderson, Sannie     FR Trine                   7:05.3   26:25.59  159   
163  #94 Stearns, Victoria    SO Denison                 7:05.4   26:26.03  160   
164  #52 Smith, Heather       SO Bluffton                7:05.6   26:26.72  161   
165  #76 Bockbrader, Kaye     FR Defiance                7:06.3   26:29.36  162   
166 #291 Wolfe, Hannah        JR Wilmington (Ohio)       7:07.3   26:32.87  163   
167  #63 Mc Carron, Emma      FR Capital                 7:08.2   26:36.31  164   
168  #80 Neff, Kelly          SR Defiance                7:11.3   26:47.67  165   
169  #67 Zapp, Emily          FR Capital                 7:11.4   26:48.12  166   
170   #7 Smiglewski, Erin     SO Adrian                  7:11.6   26:48.85  167   
171 #171 Massari, Gina        FR Kalamazoo               7:12.1   26:50.79  168   
172  #18 Spencer, Charlotte   JR Albion                  7:12.8   26:53.60  169   
173 #239 Marshall, Brittany   SO Olivet                  7:13.2   26:54.84        
174  #79 Kara, Suffel         FR Defiance                7:13.6   26:56.43  170   
175 #138 Eppley, Katie        SR Hiram                   7:14.3   26:59.02  171   
176 #233 O'Connell, Maggie    SO Ohio Wesleyan           7:14.4   26:59.55  172   
177 #266 Salyer, Catie        JR St. Mary's (Ind.)       7:15.1   27:02.13  173   
178 #252 Campbell, Corrie     SR Rose-Hulman             7:16.3   27:06.56  174   
179  #17 Ramp, Sarah          SR Albion                  7:17.5   27:11.10  175   
180  #22 Corbet, Taylor       SO Alma                    7:18.0   27:12.94  176   
181 #119 Bowman, Caitlyn      FR Hanover                 7:18.3   27:13.93  177   
182 #178 Dahlburg, Beth       SO Kenyon                  7:18.4   27:14.21  178   
183 #112 Croan, Caitlyn       JR Franklin                7:19.2   27:17.32  179   
184 #135 Fitch, Michelle      JR Heidelberg              7:19.5   27:18.31  180   
185 #196 Markin, Kelsie       FR Marietta                7:19.8   27:19.44  181   
186  #50 Janzen, Alison       FR Bluffton                7:20.0   27:20.25  182   
187  #65 Simmons, Casey       FR Capital                 7:20.7   27:22.87  183   
188  #14 Miley, Amanda        FR Albion                  7:21.0   27:23.96  184   
189 #199 Wern, Logan          SR Marietta                7:21.9   27:27.51  185   
190 #279 Thomas, Hannah       SO Trine                   7:22.3   27:28.67  186   
191  #31 Casterline, Ashley   SR Anderson (Ind.)         7:22.4   27:29.25  187   
192 #131 Brodman, Anna        FR Heidelberg              7:22.9   27:30.97  188   
193 #169 Dove, Amanda         SR Kalamazoo               7:23.4   27:33.13  189   
194 #136 McFarland, Macy      FR Heidelberg              7:25.1   27:39.30  190   
195 #120 Catherine, Freeland  SO Hanover                 7:25.5   27:40.89  191   
196 #280 Verdieck, Hayley     SO Trine                   7:26.2   27:43.29  192   
197  #34 Miller, Kayla        FR Anderson (Ind.)         7:27.4   27:48.00  193   
198 #277 Krug, Annalisa       FR Trine                   7:27.8   27:49.43  194   
199 #272 Myers, April         SO Transylvania            7:29.2   27:54.68        
200  #77 DeLong, Mindy        FR Defiance                7:29.4   27:55.23  195   
201  #82 Stryffler, Ellen     SO Defiance                7:31.5   28:03.12  196   
202 #254 Lundahl, Amanda      SR Rose-Hulman             7:33.4   28:10.15  197   
203  #29 Morrison, Robin      SO Alma                    7:36.8   28:22.96  198   
204 #278 Samuels, Abigail     FR Trine                   7:40.2   28:35.49  199   
205  #64 Muntean, Rebecca     FR Capital                 7:41.5   28:40.57  200   
206 #205 Modras, Abby         SO Mount St. Joseph        7:42.3   28:43.55  201   
207  #48 Binkley, Sarah       SR Bluffton                7:43.5   28:47.97  202   
208 #192 Weiler, Emma         SO Manchester              7:44.2   28:50.63  203   
209 #133 Dunham, Amy          SR Heidelberg              7:44.4   28:51.12  204   
210 #240 Williams, Autumn     FR Olivet                  7:44.7   28:52.30        
211  #78 Ericka, DeBos        FR Defiance                7:45.2   28:54.15  205   
212 #108 Santino, Hannah      FR Earlham                 7:47.6   29:03.15  206   
213 #106 McIlvain, Erin       SR Earlham                 7:49.3   29:09.43  207   
214  #51 Kelly, Kaitlyn       FR Bluffton                7:50.9   29:15.38  208   
215 #105 Doering, Emily       SR Earlham                 7:51.9   29:19.30  209   
216 #109 Wixom, Caryn         JR Earlham                 7:52.6   29:21.96  210   
217 #127 Rosa, Lindsay        SR Hanover                 7:52.8   29:22.73  211   
218  #49 Heffner, Katy        FR Bluffton                7:53.7   29:25.93  212   
219 #251 Butler, Shannon      SO Rose-Hulman             7:56.3   29:35.65  213   
220 #142 Richardson, Natalie  FR Hiram                   8:08.7   30:21.85  214   
221 #144 Vantaggi, Kara       FR Hiram                   8:19.4   31:01.61  215   
222 #134 Engeman, Libby       SO Heidelberg              8:22.0   31:11.45  216   
223 #166 Buhler, Lara         SO Kalamazoo               8:23.8   31:18.09  217   
224 #139 Kuhn, Lindsay        JR Hiram                   8:24.2   31:19.74  218   
225 #140 Orosz, Megan         FR Hiram                   8:24.8   31:21.81  219   
226 #104 Balbaky, Noor        FR Earlham                 8:28.4   31:35.34  220   
227 #201 Aring, Libby         SO Mount St. Joseph        8:44.1   32:33.97  221   
228 #170 Gabrys, Laura        SR Kalamazoo               8:59.2   33:30.28  222   
229 #203 Bertsch, Maggie      JR Mount St. Joseph        9:16.5   34:34.56  223   
230 #204 Burg, Jessica        JR Mount St. Joseph        9:43.5   36:15.12  224   
231 #202 Babel, Emily         SR Mount St. Joseph        9:46.6   36:26.86  225   
                                                                                  
                                   Team Scores                                    
================================================================================= 
Rank Team                      Total    1    2    3    4    5   *6   *7   *8   *9 
================================================================================= 
   1 Calvin                       50    5    8   10   13   14   16   17           
      Total Time:  1:53:01.21                                                     
         Average:    22:36.25                                                     
   2 Oberlin                     120    3   18   21   29   49   80   98           
      Total Time:  1:55:21.63                                                     
         Average:    23:04.33                                                     
   3 Case Western                130    4   12   31   36   47   54   97           
      Total Time:  1:56:01.12                                                     
         Average:    23:12.23                                                     
   4 DePauw                      150    2   22   23   28   75   88  109           
      Total Time:  1:55:55.23                                                     
         Average:    23:11.05                                                     
   5 Baldwin-Wallace             157   15   19   35   40   48   53  118           
      Total Time:  1:57:18.06                                                     
         Average:    23:27.62                                                     
   6 Hope                        187   24   30   37   45   51   57   61           
      Total Time:  1:58:28.40                                                     
         Average:    23:41.68                                                     
   7 Wittenberg                  221   11   25   26   70   89  134  137           
      Total Time:  1:58:42.20                                                     
         Average:    23:44.44                                                     
   8 Manchester                  326   27   43   52   72  132  133  203           
      Total Time:  2:01:29.87                                                     
         Average:    24:17.98                                                     
   9 John Carroll                336   38   46   71   87   94  123  141           
      Total Time:  2:01:48.93                                                     
         Average:    24:21.79                                                     
  10 Ohio Northern               338    6   74   82   86   90   93  119           
      Total Time:  2:01:08.67                                                     
         Average:    24:13.74                                                     
  11 Otterbein                   339   34   68   69   83   85  128  151           
      Total Time:  2:02:02.30                                                     
         Average:    24:24.46                                                     
  12 Wooster                     369   44   56   62   96  111  115  140           
      Total Time:  2:02:42.15                                                     
         Average:    24:32.43                                                     
  12 Adrian                      369   41   58   59  104  107  116  167           
      Total Time:  2:02:42.86                                                     
         Average:    24:32.58                                                     
  14 Ohio Wesleyan               383   32   55   64  112  120  145  172           
      Total Time:  2:02:52.98                                                     
         Average:    24:34.60                                                     
  15 Franklin                    406    9   91   95  103  108  148  179           
      Total Time:  2:02:53.10                                                     
         Average:    24:34.62                                                     
  16 Kenyon                      415   33   66   92  110  114  152  178           
      Total Time:  2:03:29.95                                                     
         Average:    24:41.99                                                     
  17 St. Mary's (Ind.)           462   60   63  105  113  121  158  173           
      Total Time:  2:04:39.73                                                     
         Average:    24:55.95                                                     
  18 Wilmington (Ohio)           482   20   79  124  129  130  143  163           
      Total Time:  2:04:09.82                                                     
         Average:    24:49.97                                                     
  19 Denison                     513    1  101  131  136  144  157  160           
      Total Time:  2:03:43.60                                                     
         Average:    24:44.72                                                     
  20 Alma                        520   39   99  102  127  153  176  198           
      Total Time:  2:05:40.79                                                     
         Average:    25:08.16                                                     
  21 Albion                      551   42   81  117  142  169  175  184           
      Total Time:  2:06:37.35                                                     
         Average:    25:19.47                                                     
  22 Kalamazoo                   570    7  100  106  168  189  217  222           
      Total Time:  2:07:04.15                                                     
         Average:    25:24.83                                                     
  23 Hanover                     600   76   78  122  147  177  191  211           
      Total Time:  2:07:44.22                                                     
         Average:    25:32.85                                                     
  24 Anderson (Ind.)             601   73   77  125  139  187  193                
      Total Time:  2:07:50.76                                                     
         Average:    25:34.16                                                     
  25 Rose-Hulman                 604   50   84  146  150  174  197  213           
      Total Time:  2:07:50.58                                                     
         Average:    25:34.12                                                     
  26 Marietta                    639   65  126  138  154  156  181  185           
      Total Time:  2:08:16.84                                                     
         Average:    25:39.37                                                     
  27 Trine                       798   67  159  186  192  194  199                
      Total Time:  2:13:54.32                                                     
         Average:    26:46.87                                                     
  28 Defiance                    827  135  162  165  170  195  196  205           
      Total Time:  2:13:51.17                                                     
         Average:    26:46.24                                                     
  29 Capital                     868  155  164  166  183  200                     
      Total Time:  2:15:46.73                                                     
         Average:    27:09.35                                                     
  30 Heidelberg                  911  149  180  188  190  204  216                
      Total Time:  2:17:18.86                                                     
         Average:    27:27.78                                                     
  31 Bluffton                    965  161  182  202  208  212                     
      Total Time:  2:21:16.25                                                     
         Average:    28:15.25                                                     
  32 Hiram                      1037  171  214  215  218  219                     
      Total Time:  2:31:04.03                                                     
         Average:    30:12.81                                                     
  33 Earlham                    1052  206  207  209  210  220                     
      Total Time:  2:28:29.18                                                     
         Average:    29:41.84                                                     
  34 Mount St. Joseph           1094  201  221  223  224  225                     
      Total Time:  2:48:34.06                                                     
         Average:    33:42.82                                                     


Back