DePauw Among Nation's Best at Providing Student Experiences in "Our Interconnected World"
November 17, 2009
November 17, 2009, Greencastle, Ind. — DePauw University is once again noted as one of the top colleges in the nation for the percentage of its students who study abroad. The 2009 Open Doors report, published by the Institute of International Education with funding from the U.S. Department of State's Bureau of Educational and Cultural Affairs, covers the 2007-08 academic year. The report lists DePauw among "23 institutions that reported sending more than 80% of their students abroad at some point during their undergraduate careers."
"While large institutions dominate in terms of absolute numbers of their students going abroad, many smaller institutions send a higher proportion of their students abroad," notes an announcement detailing the new report's findings.
"Today more than ever before, study abroad can help our students to understand our interconnected world and to participate productively in the global economy," says Judith A. McHale, Under Secretary of State for Public Diplomacy and Public Affairs. "The State Department strongly supports study abroad through such programs as the Fulbright Program, which is sending its largest number ever of U.S. students abroad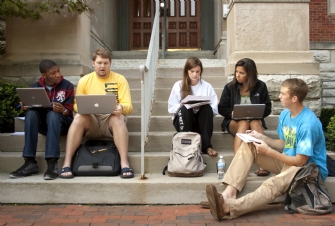 this year, and the Benjamin A. Gilman International Scholarship Program -- which in two years has doubled the number of U.S. undergraduates with financial need whom we support for study abroad. I congratulate all the U.S. students who are taking advantage of these and other opportunities to study abroad."

Overall, Open Doors 2009 reports the number of Americans studying abroad increased by 8.5% to 262,416 during the 2007-08 academic year. Four times as many U.S. students participated in study abroad in 2007-08 than in 1987-88.
The 2009 report finds that the number of students going to nearly all of the top twenty-five destinations increased, with particularly strong rises seen in students going to less traditional destinations for study abroad. Notable increases among leading destinations were in the numbers of students going to China, Ireland, Austria and India (up about 20%), as well as Costa Rica, Japan, Argentina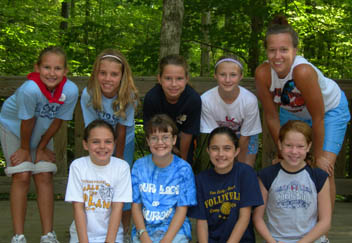 and South Africa (up nearly15% each). (at left: Lauren A. Wendling '09, seen on a service project to Costa Rica. She is currently in South Korea as a result of receiving a Fulbright U.S. Student scholarship)
While the four countries that are perennial leaders in hosting U.S. students -- United Kingdom, Italy, Spain and France -- are in Western Europe, Open Doors reports that fifteen of the top 25 destinations are outside of Western Europe and nineteen are countries where English is not the primary language. In 2007-08, students electing to study in Africa increased by 18%, those going to Asia increased by 17%, and those going to Latin America increased by 11%.
Learn more by clicking here.
For the fourth consecutive year, DePauw University is listed among the "Top
Producers of Fulbright Awards for U.S. Students" in a chart published last month in the Chronicle of Higher Education.
An all-time record high 185 current DePauw students come from 41 countries outside the United States, representing 7.8% of the current student body.
The 2009 National Survey of Student Engagement, released November 9, finds that the student experience at DePauw University provides far more academic engagement -- both in and out of the classroom -- than what is provided to undergraduates at peer institutions and the national average at all colleges and universities.
DePauw is rated among the nation's top 50 liberal arts colleges "that combine outstanding economic value with exceptional education," according to the December 2009 issue of Kiplinger's Personal Finance.
Prospective students are invited to visit DePauw's Office of Admission online.
Back