Fireworks at Town Hall Meetings Nothing New, Writes Lee Hamilton '52
November 21, 2009
November 21, 2009, Greencastle, Ind. — "Media coverage of stormy public gatherings may give the impression that we've entered an especially fraught time for public discourse, but I can tell you that anyone who's been in public life for a while has seen plenty of fierce town hall meetings," writes Lee Hamilton. In a newspaper op-ed, the veteran statesman and 1952 graduate of DePauw University states, "The challenge is not to avoid controversy; it's to make it productive." (at left: Hamilton with DePauw students in historic East College)
The Democrat who spent 34 years serving in the U.S. House of Representatives offers advice on improving congressional town meetings, which, he declares, "are crucial for members of Congress and other elected officials. They're where they can best gauge the intensity of public feeling, hear from ordinary citizens, and give people a chance to get to know firsthand their representative. Sometimes you must square your shoulders before you head into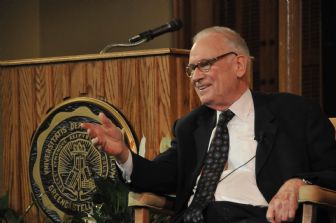 a room where you know tempers are going to flare, but this is democracy at the retail level, and it's vital."
Hamilton concludes, Over my years in Congress, I conducted hundreds, if not thousands, of town hall meetings. Almost every time I came away with the feeling that this was precisely what I was meant to be doing -- engaging with my constituents in a small part of the dialogue of democracy. Just as often, these meetings reinforced my confidence in the fairness, decency and judgment of the American people. So as we look ahead to the next congressional recess, and no doubt to the next round of heated town hall meetings, let's remember that they, too, help ensure that our representative democracy remains vibrant."
Access the complete column at the Web site of Kentucky's Richmond Register.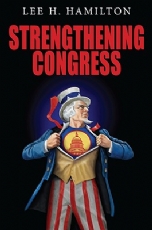 Lee Hamilton's new book, Strengthening Congress, "should be required reading for members of Congress and the people they serve," Matthew Tully recently wrote in the Indianapolis Star. "A decade after Hamilton's retirement, his book is yet another reminder that he was a gem of a congressman, diplomatic and serious, a smart politician but not mindlessly partisan. If there were more like him, Congress' approval rating likely would be much higher."
Lee H. Hamilton is president and director of the Woodrow Wilson International Center for Scholars. Newsweek has called him "Mr. Integrity," while the New York Times' David Brooks opined of Hamilton, "The country is hungering for leaders like him: open-minded, unassuming centrists who are interested in government more than politics."
Back