Chocolate Hippos are Junior's Holiday Fundraiser for Charities
November 18, 2009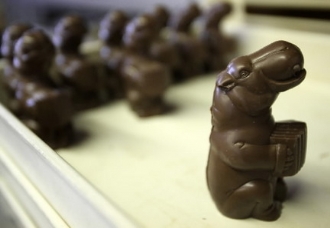 November 18, 2009, Greencastle, Ind. — "David Spotts, a junior economics major at DePauw University in Indiana who raised money for the (Cleveland) Foodbank as a high school student, saw an instant philanthropic tie-in with a hefty animal not usually associated with the season's eight tiny reindeer," notes a story in today's Cleveland Plain Dealer. Spotts and his mother, Judy Zamlen-Spotts, are selling chocolate hippopotamuses as a holiday fundraiser and are the subjects of a feature article in the newspaper. (photo: Joshua Gunter/Plain Dealer)
David Spotts "designed a marketing plan. His mom called candy manufacturers," writes Sarah Crump. "No one was interested in a project until she reached Kathryn Galgoczy, owner of Baker Candies Inc., an 88-year-old family business in Cleveland's Collinwood neighborhood. Galgoczy worked with another company to fashion a mold of a comical three-dimensional hippo holding an accordion. Now Baker is turning out hundreds of handmade 7-ounce solid-chocolate hippos to be packaged in
festive red or green boxes marked 'Season's Greetings.' Half the profits -- $2.50 from the sale of each $10 hippo -- will be split between the Foodbank and a DePauw student-run charity, Climb for a Cure, a mountain-climbing venture that benefits pediatric brain cancer and tumor research.
Read more at the Plain Dealer's Web site.
Climb for a Cure was featured in the Pilot News of Plymouth, Indiana last month. Access that article here.
Back