Four Tigers Named to Field Hockey All-Region Teams
November 25, 2009
November 25, 2009, Greencastle, Ind. — Coming off a 12-8 season and a second-place finish at the Southern Collegiate Athletic Conference Championship, DePauw placed four student-athletes on the Longstreth/National Field Hockey Coaches Association Division III All-Great Lakes Region Teams.
Senior forward Sarah Riffle and senior defender Becca Rojek were named to the first team, while freshman forward Bridgette Shamleffer and sophomore forward Kimberly Trainor were chosen to the second team. Riffle earned first team honors last year as well.
Riffle (left), a Southern Collegiate Athletic Conference first team selection and the conference's Co-Offensive Player of the Year, led the SCAC in points (28) and points per game (1.65) and was tied for the lead in goals scored (12), goals per game (0.71) and game-winning goals (3).
The two-time SCAC Player of the Week this year finished her career with 32 goals and 70 points both of which rank third all-time in the conference. Riffle also earned SCAC Offensive Player of the Year in 2008.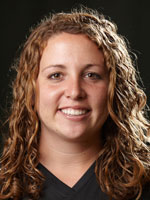 Rojek (right) earned all-SCAC honors for the third straight years and was the Tigers' top defender. She was an SCAC Defensive Player of the Week once this year.
Trainor, the SCAC Co-Newcomer of the Year in 2008, was second on the team with seven goals and 17 total points and was an all-SCAC honorable mention choice this year. Shamleffer finished with four goals and a team-high six assists and also was an all-SCAC honorable mention choice.
The Tigers finished the season with a 12-8 overall record and a 5-3 mark in SCAC games and were runners-up at the SCAC Tournament.
Follow DePauw Athletics on Twitter | Become a Fan of DePauw Athletics on Facebook
Back