Star Previews Today's DePauw-Thomas More Playoff Game
November 21, 2009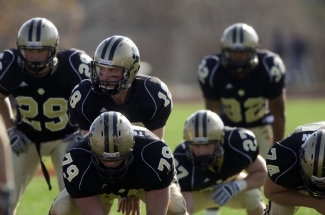 November 21, 2009, Greencastle, Ind. — "As great as the Monon Bell Game is for Wabash and DePauw, the emotional aftermath tends to linger," writes Michael Pointer in this morning's Indianapolis Star."That's a concern for a coach having to get his team ready for an NCAA Division III tournament game the following week."
The story notes, "DePauw (7-2) had clinched its first Division III tournament berth before the Bell game by winning the Southern Collegiate Athletic Conference title. But as the Tigers left the field after the
loss [last Saturday versus Wabash], interim coach Robby Long talked to some of the seniors, reminding them the season was far from over and the need to bounce back for today's game at 10th-ranked Thomas More (10-0) in Crestview Hills, Ky., near Cincinnati."
"The Bell game is an emotional deal and we definitely laid it out there on the line," Long tells the Star. "We didn't play well, but it wasn't because of a lack of heart. They were a little wiped out on Monday, but they've done a great job of responding since."
Pointer adds, "DePauw is 4-0 on the road this season. Thomas More is second in the nation in rushing defense, but that may not mean much to the Tigers, who rely heavily on the pass. They are 10th in the nation in passing yards (320.8 per game)."
According to Long, "We're fired up and ready to go compete."
Access the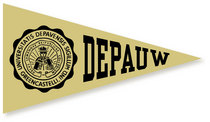 complete piece -- "No time for letdown for Wabash, DePauw" -- at IndyStar.com.
Today's contest will be broadcast on DePauw University's student radio station, WGRE. Tune in to 91.5 FM or access the action online via this link.
For the latest on the Tiger football program, visit the team's Web page.
Orders are being accepted for the limited edition DVD of the 116th Monon Bell Classic, which is currently being manufactured and should ship in early December. Details and an online order form can be found here.

Back